2 DAY CONFERENCE
droidcon London 2017
Topics covered at

#droidconUK
Want to meet the international Android community, listen to expert speakers, find out about all the latest Android advances and see fantastic new technologies? Then join us at droidcon London, the largest Android developer conference in Europe!
Join us at droidcon London on October 26-27th 2017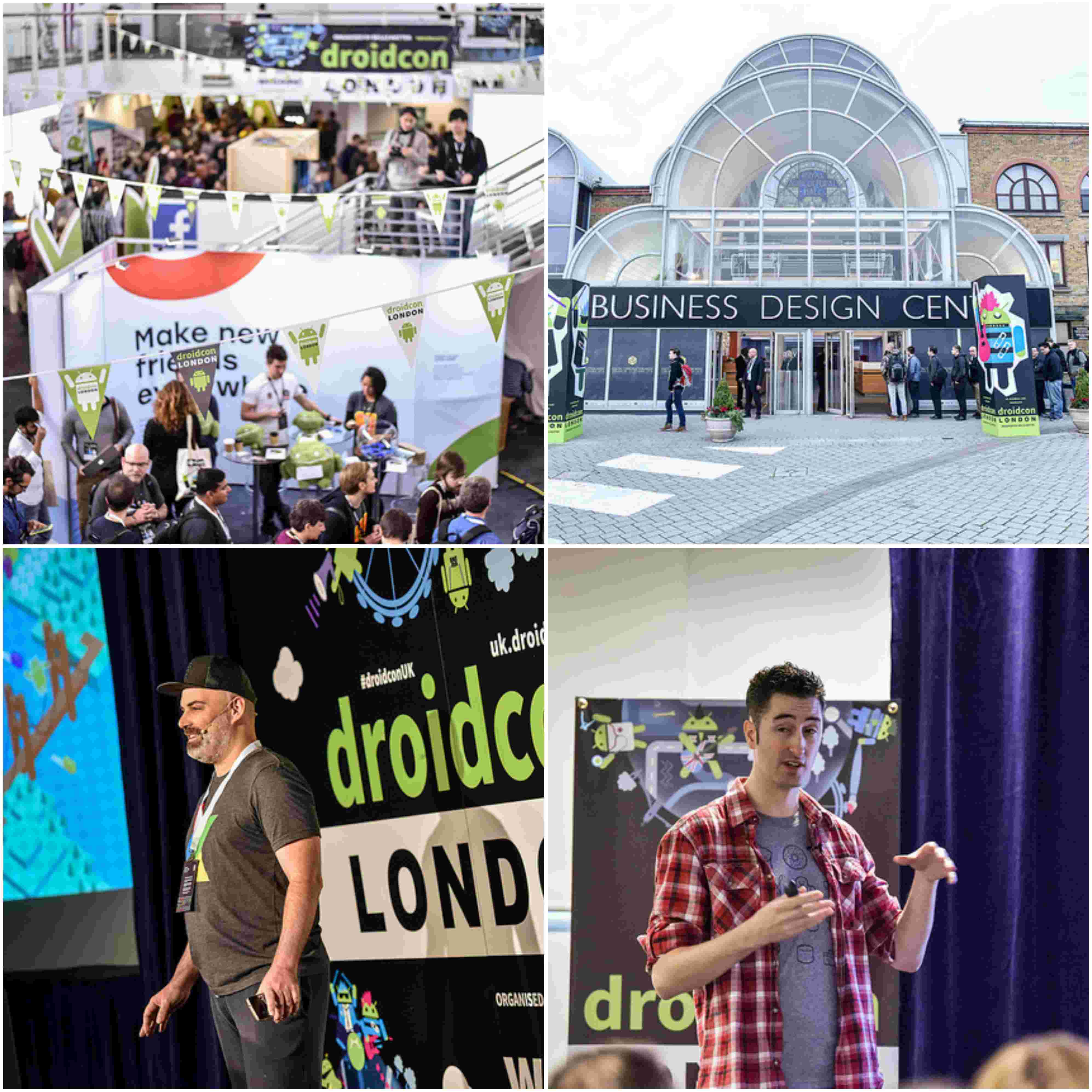 The ninth droidcon London returns with more in store for you to learn and discover! Join leading experts in the Android realm who will share their ideas and thought processes on all things Mobile. Follow us at
#droidconUK
for all the latest updates on the conference!
Tickets
Registration is open and we have some great Early Bird offers available so if you are planning to join us for two days packed with Android fun, get your skates on and book your ticket today!
Get Involved
Would you like to help us facilitate a great conference? Help us set up the conference spaces, introduce talks and speakers, field Q&A questions with mics, or support some of the workshops and hacks we've got in store? Sign up as a volunteer and get a free ticket to the conference!
Join us for the monthly droidcon London Bytes meetups at CodeNode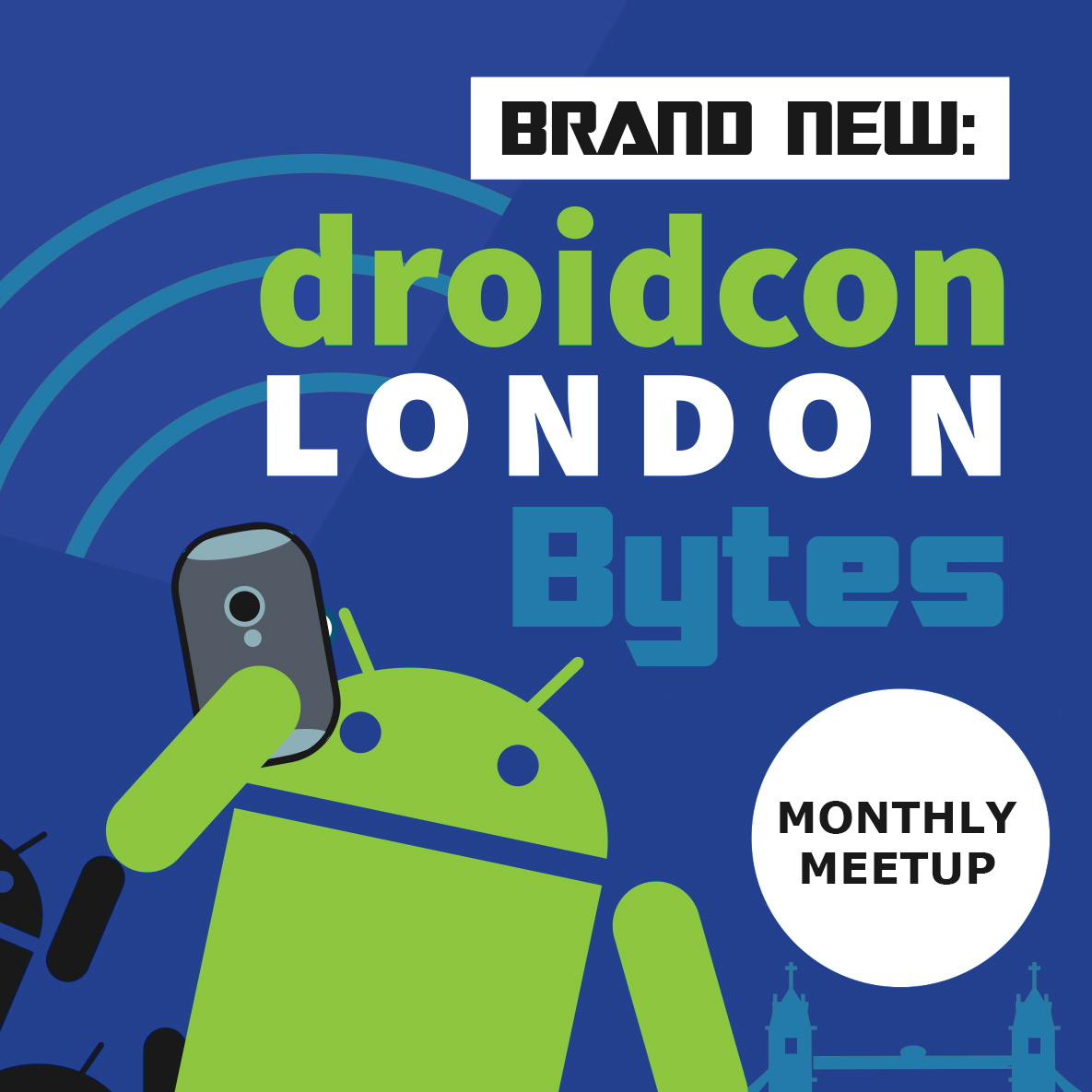 Want to stay in the loop with the latest developments within the Android community?
Join our monthly droidcon London Bytes meetups, leading up to droidcon London 2017!
Find more information here!
Last Year's highlights
Check out droidcon London 2016's Highlights and Conversations with speakers here!
Impressions of last year
Day 1: Thursday 26th October 2017
The rooms will be allocated on the day! Look out for the whiteboards and vote for which talk you'd like to attend. The final schedule for each day will be finalised after the opening keynote!
Track
Track #1
Track #2
Track #3
Track #4
Track #5
08:00

Registration & Breakfast

09:20

Welcome to droidcon London 2017 - Day 1

09:30

2

Keynote: Android: A Retrospective

Chet Haase and Romain Guy

---

keynote

droidcon

android

Keynote: Android: A Retrospective
Chet Haase and Romain Guy

Looking forward to this Keynote with Chet and Romain!

keynote droidcon android

---

About the speakers...

Chet is the lead of the Android UI Toolkit team at Google, where he works on animations, graphics, and performance. He also writes technical articles, writes and performs comedy, and gives presentations at developer conferences like Droidcon London 2015.

×

10:30

Tea & Coffee Break

10:45

Through the looking-glass eyes of an Android

Adrian Catalan

---

api

machine-learning

android

droidconuk

Through the looking-glass eyes of an Android
Adrian Catalan

Ever wondered what your Android sees? How does it perceive (or not) the outside world? it would be really nice for our phones to see as we see and if they're not yet capable, why not teach them? the way to do it is using Machine Learning, a (kind of) new trend that's here to stay, and with so many different areas to explore is up to us to pick one we find interesting.

Well, Adrian's take is on computer vision, so buckle up and join him in this journey, you can review options for computer vision on mobile, explore different examples and walk through the basics of several vision APIs.

api machine-learning android droidconuk

---

About the speaker...

Adrián has been involved in software industry for 13+ years, working both in web and mobile apps. GDG Guatemala, GuatemalaJS and Nodebots former co-organizer. Currently he leads the Innovation Lab at Galileo University and is a Google Developer Expert(GDE) for Android, IoT and Firebase.

×

Data Persistence In Android: There's Room For Improvement

Florina Muntenescu

---

DataPersistence

room

ArchitectureComponents

architecture

droidconuk

Data Persistence In Android: There's Room For Improvement
Florina Muntenescu

At Google I/O, the Android Framework team launched Room: a persistence component designed to make your life easier when working with SQLite databases on Android. Entities and data access objects are defined using annotations, your queries are now checked at compile time and the database migrations are easy to implement. In this talk you'll find out whether you should or not integrate Room in your project. You'll learn how Room works, how it handles multi-threading, how to write queries and work with different return types, how to migrate your database, and finally, how to test your code.

DataPersistence room ArchitectureComponents architecture droidconuk

---

About the speaker...

Florina is working as an Android Developer Advocate at Google, helping developers architect clean, testable apps using the Architecture Components libraries. She has been working with Android for 8 years, previous work covering news at upday, payment solutions at payleven and navigation services at Garmin.

Florina tweets at @FMuntenescu.

×

From View to Pixel

Britt Barak

---

underTheHood

profiling

performance

android

droidconuk

From View to Pixel
Britt Barak

We write code, we run it on the device, we can see it and touch it and play around with it.. But how do those line of code actually become something we can see? Isn't it magic? - not really :)

This talk will take a peek under the hood and explain how does the system work, how does it draw the views on screen? Ever asked yourselves why is the view class you wrote not showing on the screen? Or why does it take so long until the layout is drawn? Why isn't your popup displaying at the correct position? Why is your animation junky?

Britt will answer these questions and understand how to profile and improve your app's drawing performance- for the smoothest user experience possible.

underTheHood profiling performance android droidconuk

---

About the speaker...

Born and raised in Israel, the "Startup Nation", Britt has started and lead the mobile teams on various startup companies, currently leading a stealth mode startup. Passionate about Android, she is co-leading Android Academy TLV which is one of the largest and most active Android communities out there. Britt is also Women Techmakers Israel community lead and act to promote diversity in tech.

×

OpenGL, a noob's guide for Android developers

Benjamin Monjoie

---

canvas

views

opengl

android

droidconuk

OpenGL, a noob's guide for Android developers
Benjamin Monjoie

OpenGL is often regarded as too complex, obscure or even too low level to be considered when developing an application. Most people will even try to go around it and develop what they want using Views and Canvas to avoid developing with it. Nevertheless, it's not always possible nor the best solution.

As someone who have been going through all the learning of OpenGL recently, Benjamin has encountered a lot of frustration but also a lot of "aha!" moment. In this talk, Benjamin will try to demystified OpenGL and share the basics of what it is and how to use it in Android to make applications perform better. Also, you will learn all the pitfalls and key concepts that you should know when starting with OpenGL.

canvas views opengl android droidconuk

---

About the speaker...

Developer since 2004, Benjamin has grown fond of Android since he started tinkering with it in 2011. He was previously employed at Emakina as lead Android developer. Since July 2016, he started his carrer as a freelancer. Through his work, he does his best to share his passion for the platform and ensure Android applications are not copy/pasted from their iOS counter-part. He stays closely up-to-date with Google's guidelines and innovations to advise and take decisions that would fit best in an Android application.

×

Commonly Overlooked Areas of Security

Clive Lee

---

ReadTheFriendlyManual

security

android

droidconuk

Commonly Overlooked Areas of Security
Clive Lee

Imagine the following. You're happily coding along when you suddenly realize that there is a serious security flaw with your app. At first you may be in disbelief. You might turn to your co-worker and ask, "Does this sound right to you?" Then the realization of the magnitude of the problem slowly dawns on you. You might swear, walk outside for fresh air, or even laugh out loud, not knowing how else to respond.

Maybe you haven't experienced anything like that. In Clive's talk, you will explore some commonly overlooked areas of Android programming that may pose serious security concerns, so that this doesn't happen to you in the future.

Why overlooked? Because most of the issues Clive brings up may seem like it has nothing to do with security, even to an experienced Android developer. Addressing these issues may seem like busy work that someone on the team should do, but no one ends up doing because no time is allotted for it. These issues include, for example, logging, obfuscation, NDK, library dependencies, recent app menu, etc. Clive's hope for this talk is that we recognize the security implications of these overlooked areas and thus prioritize addressing these issues.

ReadTheFriendlyManual security android droidconuk

---

About the speaker...

Clive is a Android Developer at Ovia Health, a women's health mobile app company. He has a BS in Computer Science from CU Boulder, and a MS in Computer Science from Stanford University. (He also has a law degree, just for fun). He's been in the software development industry for over five years, including few years developing games at Electronic Arts.

Outside of work, he tries to keep his personal apps updated, listen to podcasts (including Android podcasts), and read books. He lives in Boston, MA, with his wonderful wife and two sweet cats.

×

11:30

Tea & Coffee Break

11:45

O-mg what's new in Android Security?

Scott Alexander-Bown

---

autofill

ssl

webview

safetynet

google-play-services

security

android

droidconuk

O-mg what's new in Android Security?
Scott Alexander-Bown

Android O brings a plethora of security enhancements to the platform and the SDK. Scott will share with you a concise update on these new security features as well as practical tips and examples of how to implement them and improve your app's security.

You will learn about features such as Auto fill, restrictions on device hardware identification with the focus on user privacy, new permissions in telephony and updates to how apps can access user accounts.

Scott will discuss the major enhancements to Webview in Android O including isolating it's process and ability to integrate with Google Safe Browsing API. Also the dropping of support for SSLv3 and enhancements to Network security config that was introduced in Android Nougat.

Scott will also share with you some security features you can implement when your apps is not running on Android O. This is where Google Play services can help. Several new SafteyNet APIs allow developers make smarter decisions about the trustworthiness of the devices their app is running on. You will also learn how easy it is to transition to Google Play App Signing which offers a new way to manage your app's signing keys.

autofill ssl webview safetynet google-play-services security android droidconuk

---

About the speaker...

Scott is a ​freelance Android developer and Google Developer Expert who is passionate about mobile app security. He is co-author of "The Android Security Cookbook", speaks at various conferences on the subject and has released several security related open source libraries.

In 2011, Scott founded and continues to co-run SWmobile meetup group based in Bristol/Bath (UK). Mobile professionals can meet and share knowledge at the monthly tech talk/social events.

To relax and bug out from the screen Scott enjoys spending time with his wife and children, running, Mexican food, Belgian beer and science fiction.

Scott tweets at @scottyab.

×

Deep Android Integrations

Ty Smith

---

twitter

uber

programmatic-communication

intent-interfaces

interfaces

android

droidconuk

Deep Android Integrations
Ty Smith

Designing an elegant interface for developers to communicate with your Android app is crucial for building a mobile platform. Ty has been building mobile-focused developer platforms at Evernote, Twitter, and now Uber. In this talk, he'll walk you through many of the best practices that he has accumulated and you'll find out how to allow third party developers to seamlessly interact with your users' local data to shortcut more expensive server operations.

Ty will share topics such as how to include building single sign-on, surfacing your local databases, constructing well-defined Intent interfaces, using deep links, and binding services for programmatic communication. Ty will share with you how to create a well-defined interface in your app – if that's something you want to know, don't miss it!

twitter uber programmatic-communication intent-interfaces interfaces android droidconuk

---

About the speaker...

Ty has been working on Android since 2009. He is a tech lead at Uber, focusing on the external developer platform. He is a member of the Google Developer Expert program and regularly speaks at international conferences on Android. He organizes the SF Android Meetup group and Droidcon SF. He is a member of the technical advisory and investment group, Specialized Types. Prior to Uber, Ty worked on the Fabric tools at Twitter, the Evernote Android App and SDK, a messaging platform for Sprint, and Zagat for Android.

×

Profile, debug, analyze

Wojtek Kaliciński

---

tools

androidstudio

debugging

android

droidconuk

Profile, debug, analyze
Wojtek Kaliciński

Android Studio has a whole new suite of tools for analysing your apps and for debugging runtime errors and performance problems. Developers are also becoming more aware about the need to make their apps leaner and faster, but often don't know what tools are at their disposal. Wojtek will share with you several classes of common debugging problems and the appropriate tools to tackle them.

tools androidstudio debugging android droidconuk

---

About the speaker...

I am a Developer Advocate at Google and I work closely with the Android Studio team to provide outreach on new Studio and Tools releases and framework features. I enjoy looking for ways to make apps more usable, mostly through better development patterns and code optimizations.

×

Android Internals for Developers

Effie Barak

---

window-manager

activity-manager

system-service

Binder-IPC

internals

AOSP

AndroidOS

Android Internals for Developers
Effie Barak

What actually happens when your code calls Android APIs? You all know about onCreate, but who actually calls this method? What does the operating system look like under the hood? In this talk, Effie is going to go behind the curtain and look at AOSP itself. She's going to dig into the internals of how Android OS manages the apps that we write and see:

How Intents work and how they get resolved
How an app works together with other Intents, Activities, Services, and Content Providers in features such as sharing
How the app lifecycle is being managed by the system
How these features are built on top of the built-in Linux primitives such as processes and Linux user accounts.

window-manager activity-manager system-service Binder-IPC internals AOSP AndroidOS

---

About the speaker...

I work at Pinterest as a Senior Android developer on the Core Experience team. Before that I was a Senior Android developer at Udemy, responsible for the Android app development and leading the development of the Android TV prototype. I began working as a C# developer 10 years ago. I became a mobile developer 4 years ago, and released many Windows and Windows Phone apps. After moving to San Francisco in 2013, I worked for Slack on the Windows Phone app.

My speaker page can be found here.

×

How to Keep Your API Keys Safe

Richard Taylor

---

react.js

tls

android

droidconuk

How to Keep Your API Keys Safe
Richard Taylor

Mobile apps increasingly leverage rich and complex REST API backends to enable server-side interaction. However access credentials, such as API keys, have to be embedded in your app code where they can be extracted and subsequently abused. Learn practical approaches to prevent this without having to change your whole development flow. Richard will share with you examples in native Android apps, as well as popular frameworks such as React.js.

Firstly you will survey the state of the art in terms of how authorization to these APIs is typically implemented, including API keys and user authorization via OAuth2. Richard will then discuss the types of attacks that are possible if unauthorized software clients are able to access the API and impersonate the intended client mobile app. You will also learn how TLS alone is not an effective countermeasure to credentials being reversed unless certificate pinning is also used to prevent Man-in-the-Middle attacks against the app. There will be some practical advice on how to implement TLS pinning with code examples. During this talk you will then learn how credentials can be easily extracted from mobile app code unless some effort is made to conceal these credentials. Further Richard will share some tips on improving credential obfuscation in code, across multiple frameworks. You will look at proxy based approaches to move secrets out of mobile apps and into more easily secured servers.

Finally you will discover more advanced techniques such as app hardening, white box cryptography and software attestation for applications where security is crucial. You should gain a good understanding of the problem, some short term practical tips to improve their API security posture with minimal effort and an appreciation of emerging tools and technologies that enable a significant step change in security.

react.js tls android droidconuk

---

About the speaker...

Richard is CTO of CriticalBlue, a UK technology company specializing in mobile app security. He started his career as a developer specializing in compiler technologies with a particular focus in low level code optimization techniques. In 2002 he co-founded CriticalBlue to focus on his innovations in compilation technologies, developing tools that automatically generate custom microprocessor architectures derived from software analysis. Over the years this technology became increasingly focused on multi-threaded software analysis for migrating sequential software implementations into multi-threaded alternatives. Richard developed a dynamic binary instrumentation technology to analyse x86, ARM, MIPS and PowerPC compiled applications on the fly to derive low level performance, cache impact and data dependency information. This technology was used in performance optimization of the Android Operating System for certain OEMs. Aspects of this technology have now been applied to CriticalBlue's Approov mobile application security solution that enables remote attestation to be performed on mobile apps to allow API providers to ensure that only official apps are able to access API services

×

12:30

Lunch

14:00

About Memory Management in Fully Reactive Apps

Paco Estevez

---

advanced

rxjava

functional-programming

android

droidconuk

About Memory Management in Fully Reactive Apps
Paco Estevez

Working with RxJava's Observables can be challenging: they have to abide by the Android lifecycle, be aware of garbage collection, and keep threading in mind. In this talk, Paco will take a deep dive on the memory management pitfalls when working with reactive apps.

You will learn what leaks are, how they are created when working with observable streams, and provide advice on how to avoid them. Building your own UI binding abstraction can help you understand how you app's state changes, and greatly simplify your tests. Lastly, how to architect your app to optimize for fast development loops.

advanced rxjava functional-programming android droidconuk

---

About the speaker...

A rogue functional programmer in Android land, Paco started his career working on mobile videogames, and then transitioned to prototypes, experimental libraries, and worrying about day-to-day development experience.

Currently he helps making Facebook's tools and frameworks even more awesome from the London HQ. You can follow his thoughts on his blog and libraries.

Paco tweets at @pacoworks.

×

Looking forward to Hoi Lam's Talk!

Hoi Lam

---

androidwear

android

droidconuk

Looking forward to Hoi Lam's Talk!
Hoi Lam

androidwear android droidconuk

---

About the speaker...

Hoi is a subject matter expert at Google for Wearables and Internet Of Things (IoT). He previously worked on Google Cast where he was part of the launch team for both the Google Cast SDK and Chromecast in Europe.

Prior to joining Google, he founded Exahive to disrupt the mobile commerce marketplace with new technology and business models. Hoi was an Equity Research VP at Deutsche Bank and Citigroup between 2007-2012 advising technology CEOs, CFOs on corporate strategy and institutional investors on technology investments.

Before banking, he was an enterprise architect at Accenture heading up product management for large client programmes. Hoi holds a Master and Bachelor degree in Space Engineering from the University of Cambridge.

Follow Hoi on Twitter at @hoitab.

×

Accessibility @ Scale

Mallika Potter

---

accessibility

android

droidconuk

Accessibility @ Scale
Mallika Potter

Accessibility often isn't a priority for companies as they grow, but if you don't invest in it early it can become a knotty problem. In this talk Mallika will share how to break down a complex Android application to find low-hanging fixes as well as prioritizing larger improvements and investing in accessibility in the future. She will explore her experience growing grassroots support for accessibility improvements at Pinterest and both the moral and business value of improving it.

accessibility android droidconuk

---

About the speaker...

Mallika is an Android developer at Pinterest. Her main areas of focus are performance and accessibility. She leads the Android Accessibility initiative at Pinterest.

×

The Creative Technologist

Corey Latislaw

---

android

droidconuk

The Creative Technologist
Corey Latislaw

Programming is an art form, yet we often view programming as a rote act. In this talk, Corey will share with you the connections between the brain, technology, and creativity. You'll learn the benefits of creativity, how to practice it, and how you can use it to make you a better technologist.

android droidconuk

---

About the speaker...

Corey Latislaw is an Android Google Developer Expert (GDE), software engineer, author, speaker, and teacher.

She has written several high profile Android applications at companies large and small. By day she is installing solar in Tanzania with Off Grid Electric. At night she authors videos and books on Android programming, runs a consulting firm, and organizes the Philadelphia Google Developer Group (GDG). She is passionate about travel, local food, the outdoors, photography, and living in Philly.

Visit Corey's website coreylatislaw.com

×

Reduce, Reuse, Recycle

Nick Butcher

---

animation

RecyclerView

android

droidconuk

Reduce, Reuse, Recycle
Nick Butcher

RecyclerView is one of the most powerful and versatile components in your toolkit for building complex apps. But are you getting the most out of it? Nick will share with you the best practices for performance and efficiency. You'll also learn advanced customizations to layout, animation and gestures.

animation RecyclerView android droidconuk

---

About the speaker...

Nick is a Android Design/Developer Advocate in Google's London office where he helps designers and developers to create sublime mobile apps. "

He has been making Android apps for over 5 years and has worked with hundreds of companies to help them to make the most of the platform. Nick is a frequent contributor to the official android developers blog, conference speaker, host of Google Developers shows (Android Design in Action, Android Office Hours, DevBytes), co-author of the 'Android Design for Developers' Udacity course and shares pro-tips on Google+ and Github. Nick has worked on Google apps such as Google I/O and Android Device Manager. Recently Nick has been focused on helping designers and developers to understand and create beautiful material design apps.

×

14:45

Tea & Coffee Break

15:00

CYA: Cover Your App

Jorge Ortiz Fuentes

---

UnitTesting

kotlin

architecture

android

droidconuk

CYA: Cover Your App
Jorge Ortiz Fuentes

Testing is a fundamental component for the success of our apps. Professionals in charge for developing Android apps are well aware of that and we are doing our best to add unit tests to our apps. But having a good test coverage is not an easy task. More so, when activities (or fragments) get in the middle.

In this talk, Jorge will share a brief introduction about how architecture helps us to increase code coverage and will provide some practical hints.

Finally, Jorge will do live coding to show how to use espresso and JUnit to write unit tests of an activity. The code will be written in Kotlin, but Jorge will explain how to do the same in Java.

This is a "Code or it didn't happen" (TM) talk.

UnitTesting kotlin architecture android droidconuk

---

About the speaker...

Jorge is a freelance dedicated to mobile development, security, and systems architecture. As a developer he started to work for the M.I.T. in 1993 and since he has collaborated in many software projects. Most of them were internally for HP where he worked for more than 15 years. During the last 6 years he has been working in different aspects of mobile development. After playing with PalmOS, he learned Android programming for the first Google App contest and immediately started to play with the first iPhone SDK. He often participates as instructor in the best iOS and Android Bootcamps in U.S.A. and Europe. He has recently founded Canonical Examples to help other developers to take a step forward and become senior developers in a very demanding market.

×

Doo z z z z z e

Ralf Wondratschek

---

APIs

JobScheduler

android

droidconuk

Doo z z z z z e
Ralf Wondratschek

With Android Marshmallow Google introduced two new power-saving modes: Doze and App Standby. True to their intent, both provide longer battery life and better performance. Their effectiveness further improved in Android Nougat. However, these modes carry some limitations developers should be aware of. To further improve power-saving Android O will be even more restrictive and disable common implicit broadcasts. Many apps rely on implicit broadcasts so if you're using those, supporting older and newer devices at the same time is going to be more challenging.

In this talk Ralf will share with you why these new APIs are better. You will learn the given tools and dive into the new APIs. Finally, you will explore effective solutions to avoid duplicating code over and over again for different SDK versions.

APIs JobScheduler android droidconuk

---

About the speaker...

Ralf Wondratschek is a Sr. Software Engineer, Android on the Evernote product team. Ralf works on the core Evernote client with a special focus on software architecture, the camera and third party app integration. He also maintains several open-source projects on Github like the Evernote Android SDK and the job library for Android.

Prior to Evernote, Ralf worked together with several companies in Germany and published as independent developer three apps in the Google Play Store.

×

Modularizing Android Applications

Marvin Ramin

---

multi-project

architecture

interfaces

gradle

droidconuk

Modularizing Android Applications
Marvin Ramin

Most Android applications consist of one big, monolithic application project. As your application grows this single project can become harder and harder to manage, responsibilities become unclear and build times grow. Marvin will share how you can split up such an Android application into multiple, smaller modules. We will discuss how doing so might change the way you work in your applications codebase and how it can help in setting up clearer interfaces and responsibilities across teams. As modularizing an application changes the way you interact with the build system we will talk about how your build setup and times might change and how different build systems (such as Gradle, Buck and Bazel) interact with multiple modules.

multi-project architecture interfaces gradle droidconuk

---

About the speaker...

Marvin is a Software Engineer working on the Android application at SoundCloud. He wants to make codebases easier to work with, safer and faster to iterate on. Likes staying on the bleeding edge of things by trying new ideas, APIs and libraries in sample projects scattered all over his hard drives and repositories.

×

How to be a happy developer. Now!

Christian Robert

---

developer-unhappiness

android

droidconuk

How to be a happy developer. Now!
Christian Robert

A lot of developers will agree to the claim that they turned their hobby into their profession. However, when looking at the daily business they often face a world different from what they expect. A variety of reasons lead to a developer becoming frustrated thinking "What the hell am I doing here?". Sometimes it's because of expectations that simply cannot be met in reality but there are also external factors that contribute to the "developer unhappiness".

So, what can be done to improve the current situation? How can you make ourselves feel better? Based upon a lot of discussions, observations and real life experiences the presentation will show a number of "real life patterns" that can be applied immediately to manage the everyday stress and hurdles to make ourselves feel more relaxed and happier in our job.

developer-unhappiness android droidconuk

---

About the speaker...

Christian Robert is manager technology and mobile architect with SapientRazorfish in Cologne, Germany. For more than 15 years he's been designing and implementing customized software. He currently focusses on developing efficient solutions in the mobile world. As he not only likes to work with machines but also enjoys interacting with people he's constantly trying to push software craftsmanship ideas and help other developers to realize their full potential.

×

My app is smarter than your app

Erik Hellman

---

AI

artificial-intelligence

machine-learning

android

droidconuk

My app is smarter than your app
Erik Hellman

Everybody is talking about AI and Machine Learning these days, but how would that work on your Android device? In this session, Erik will share with you how to apply the latest libraries and services to your Android application in order to make it smarter and provide a better user experience than your dumb competitors.

AI artificial-intelligence machine-learning android droidconuk

---

About the speaker...

×

15:45

Tea & Coffee Break

16:00

One to 10x - Tools that give you superpowers

Zan Markan

---

gradle

10x

android

droidconuk

One to 10x - Tools that give you superpowers
Zan Markan

Any sufficiently advanced technology is indistinguishable from magic. The reality of the 10x developer myth is just that - it's just developers who master their environment. The truth is we can become massively more productive by using what's readily available and merely a few google searches away.

In this talk you will learn how to become a better developer by mastering our development environment and the universe of tools at our disposal. From the hidden depths of Android Studio and Gradle to the wide open fields of awesome open source utilities and services that border on magical.

How well do You know your tools?

gradle 10x android droidconuk

---

About the speaker...

Working as the lead mobile engineer at Pusher, I spend most of my days building libraries and SDKs.

In my previous life I worked on apps in some way or another for 7 years, focusing on mobile since the early days.

My current focus is on finding the best user-centric approach to library and API design, and when I'm not programming I enjoy speaking at conferences, talking public policy, and an occasional pint of IPA.

Some of my previous slides can be found here.

Zan tweets at @zmarkan.

×

Deep into the IoT trenches: how to build a connected product

Jeroen Mols

---

hardware

legacy

Wi-FiSetup

discovery

architecture

IoT

android

droidconuk

Deep into the IoT trenches: how to build a connected product
Jeroen Mols

Don't you love making your app robust against network failures? Now imagine your app talking to a Wi-Fi connected product... Locally when your home or via a server when you're not. You'll certainly love handling those network switches! And what if your app doesn't just control one product, but multiple ones? Some locally, some remotely connected? Or how about having multiple users controlling the same product at the same time? It goes without question that building apps for connected products is incredibly challenging.

From device discovery, over minimizing network requests to out of the box setup, Jeroen's talk will cover it all. Packed with code examples, architecture suggestions and tons of best practices, you'll learn six years' worth of hard earned experience. This won't just kick start your IoT app development skills, but you will also learn how to keep your app scalable and maintainable towards the future.

Starting as early as 2011, Jeroen has built an impressive range of connected products: BT LE coffee machines, Wi-Fi speakers, connected air purifiers and even full blown connectivity libraries. Currently he is Lead Android developer of the official Philips Hue apps, the biggest IoT system in the world.

hardware legacy Wi-FiSetup discovery architecture IoT android droidconuk

---

About the speaker...

Jeroen has a real passion to build things, which continuously challenges him to experiment and learn. In the process refocussed his master in Electrical engineering to become an Android developer. Starting off with highly technical prototypes for Wi-Fi connected products, he build his own file sharing platform (Wi-FileTransfer). Currently he is the lead Android developer for the official Philips Hue app.

One of a kind, never-been-done before apps are what he enjoys most and complex systems, highly technical apps have become his expertise. Jeroen already helped realize three huge connected products, various high profile apps (e.g. Nieuwsblad), actively contributes to open source and loves interacting with the Android community.

×

The Baddest Android Advice in All Land

Bad Android Advice

---

BadAndroidAdvice

android

droidconuk

The Baddest Android Advice in All Land
Bad Android Advice

Some of the best Android developers will share some of the worst advice you could take when building an Android app. Make no mistake about it, this session is no joking matter. Why learn, when you can repeat the mistakes of others... or maybe it was the other way round?

×

Revolutionary features in Gradle 4.0

Etienne Studer

---

Build-Cache

Composite-Builds

Daemon-by-default

gradle

android

droidconuk

Revolutionary features in Gradle 4.0
Etienne Studer

With the release of Gradle 4.0, major new features never seen before have become available that allow for efficient development workflows and provide increased build performance by an order of magnitude, in particular for Android builds.

Etienne will explore the new Gradle features like Daemon-by-default, Composite Builds, Build Cache, and others. You will also learn how Gradle build scans help with gaining insights into your builds. All information and live demonstrations will be put into context on how they relate to Android development.

Build-Cache Composite-Builds Daemon-by-default gradle android droidconuk

---

About the speaker...

Etienne works at Gradle Inc. as VP of Product Tooling. He has been working as a developer, architect, project manager, and CTO over the past 15 years.

Etienne has spent most of his time building software products from the ground up and successfully shipping them to happy customers. He had the privilege to work in different domains like linguistics, banking, insurance, logistics, and process management. Etienne used to share his passion for high-productivity tools as an evangelist for JetBrains. He was also a founding member of the JetBrains Development Academy and of Hackergarten. In his little spare time, Etienne maintains several popular Gradle plugins.

Follow Etienne on Twitter at @etiennestuder

×

Lint for Life: Your Customizable Guard At Compile Time

Snow Zhao

---

Static-Code-Analysis

ADT

lint

android

droidconuk

Lint for Life: Your Customizable Guard At Compile Time
Snow Zhao

Android Lint was introduced in ADT 16 as a tool to scan for potential bugs. However, Lint itself has been around since the Unix V7 in 1979 as a static analysis tool and adopted by every major programming language over the past 40 years.

Well utilized Lint not only prevents common errors such as use of deprecated elements or API calls, but also improves code quality and enforce tailored rules. At the end of this session, you will walk out with knowledge that reveals the full potential behind Android Lint from the built-in checks and configuration, most updated APIs, PSI Library, as well as the difference between Android Lint and other static code analysis tools such as PMD and Findbugs to help you make better decisions on which fits a certain purpose bes. Snow will also share customized checks used by the production Groupon app, and step by step examples on how to implement your own rules. You will.

Now are you ready to join us and become a Lint Expert?

Static-Code-Analysis ADT lint android droidconuk

---

About the speaker...

Snow fell in love with Android when G1 phone came onto the market and started developing Android right after her first two Java courses at University of Washington. She is part of the super star team at Groupon Silicon Valley where not only are they able to deliver a solid e-commerce app for billions of consumers around the world which has been ranked as the best Android apps for consecutive 5 years, but also technical innovations are created everyday. And she has been nominated as Mobile Rock Star multiple times. At the same time of delivering high quality features that generate billions of dollars of revenue, Snow also got to work on a stand alone home service app, and a series of internal, external libraries, major refactoring, and is always eager to share her knowledge. She is actively involved the Silicon Valley GDG, Women Who Code, Girls Who Code, and speaks both internally and externally on Android development.

×

16:45

Tea & Coffee Break

17:00

Easy onboarding with less permissions

Michael Stillwell

---

ux

GooglePlay

APIs

android

droidconuk

Easy onboarding with less permissions
Michael Stillwell

Prior to Android 6.0, apps frequently requested sensitive permissions (such as accounts, contacts and text messages) at install time in order to provide a smooth sign-in and sign-up experience. Whilst this approach has usability benefits, it has privacy implications (the reason many apps avoided it in the first place), and in addition, developers are finding it much less effective on newer versions on Android in which permissions must be individually requested at run-time.

Fortunately, there's a way around these problems that both maintains ease-of-use and respects privacy: by using the authentication-related APIs of Google Play Services, most authentication flows can be implemented without requesting any permissions at all.

In this talk Michael will share with you the UX and technical aspects of these changes, and how you can best take advantage of the features provided by Android and Google Play Services to improve the sign-in and sign-up flows for your users.

ux GooglePlay APIs android droidconuk

---

About the speaker...

Developer Advocate whoI help companies work with Google technologies and APIs, as well as helping make Google work better with these companies.

×

17:15

Heat the Neurons of Your Smartphone with Deep Learning

Qian Jin

---

poc

deep-learning

AI

artificial-intelligence

machine-learning

android

droidconuk

Heat the Neurons of Your Smartphone with Deep Learning
Qian Jin

Artificial intelligence, Machine Learning and Deep Learning have become the latest buzzwords in the tech industry. You hear about image or object recognition all the time and they start to appear in our mobile apps more and more often. But there is still very few usage of direct application of deep learning in mobile apps, most of them are cloud based solution. Qian and Yoann decided to build a PoC (Proof of Concept) using deep learning technologies on mobile devices to see how things would work.

The project Magritte was born out of our curiosity for on-device intelligence. It's an educational application that helps people learn language, by leveraging TensorFlow to recognize daily objects. You will learn how Qian and Yoann trained and optimized the models for mobile application, the possibility of building an architecture to receive image updates from mobile apps in order to retrain the model and distributing the new models to mobiles apps. If you are an Android developer who is curious about deep learning, this is the slot for you.

poc deep-learning AI artificial-intelligence machine-learning android droidconuk

---

About the speaker...

Android developer, IoT maker, Pythonista, Machine Learning newbie. I'm a curious and enthusiastic technologist who is interested in accessibility and tech for good subjects.

×

17:30

I am on a Fastlane to Hell

Jan Kettner

---

continuous-deployment

continuous-integration

fastlane

android

droidconuk

I am on a Fastlane to Hell
Jan Kettner

Fastlane is a tool that transforms your Continuous Integration into Continuous Deployment. It helps you build and upload your mobile apps to iOS and Android app stores with integrated screenshot support. Jan will share with you how to configure fastlane for a one click deployment. You will learn how you setup multiple lanes for beta and production deployments and how fastlane integrates into your team communication and product management tools.

continuous-deployment continuous-integration fastlane android droidconuk

---

About the speaker...

I wanted to be a writer because I did not want to work. But since I did not want to work I did not succeed as a writer. So I became a developer instead, because being lazy can be a good trait for a developer. Most of my career I have been working in Mobile Development. The question what defines good code and how to build good software drives me and any pointers are welcome.

×

17:45

Beer Break

18:00

Looking forward to Lisa Wray's Keynote Talk!

Lisa Wray

---

Looking forward to Lisa Wray's Keynote Talk!
Lisa Wray

---

About the speaker...

Lisa Wray is the Android developer at Genius, the world's largest repository of musical knowledge. Previously, she was a developer advocate for Android and wearables at Google, and a mobile developer at the New York Times. She is an Android GDE and has a B.S. in Computer Science and Music from M.I.T.

Lisa tweets at @lisawrayz.

Last year's "Beautiful Typography on Android"

×

19:00

droidcon London 2017 Party!

22:00

End of Day 1 of droidcon London 2017 - See you tomorrow!
Day 2: Friday 27th October 2017
The rooms will be allocated on the day! Look out for the whiteboards and vote for which talk you'd like to attend. The final schedule for each day will be finalised after the opening keynote!
Track
Track #1
Track #2
Track #3
Track #4
Track #5
08:30

Registration and Breakfast Refreshments

09:15

Welcome to droidcon London 2017 - Day 2

09:30

Keynote: Developers Are Users Too

Florina Muntenescu

---

android

droidconuk

Keynote: Developers Are Users Too
Florina Muntenescu

For years, you've been looking at one type of consumer of your work: the end user - the one for whom you are developing our apps. The Android community has been growing and, most of all, it's been collaborating! Code, blog posts and talks - for all these types of content that you are producing, the consumer is you. All of you! From code reviewers, team-mates, other developers that use our work, to the future "you" that needs to maintain the code.

For the first type of consumers you have specialized roles that advocate for them – like product owners and UI/UX designers – but for the second type, you don't. As developers, it ends up being your responsibility to look at the content you are producing from the perspective of the target audience.

Florina will share with you a look at the "content - consumer" relationship in the same way you look at the "app - end-user" relationship. You will explore what kind of questions you need to answer to improve the quality of your work, satisfy your content consumers and, in turn, improve the end-user experience.

android droidconuk

---

About the speaker...

Florina is working as an Android Developer Advocate at Google, helping developers architect clean, testable apps using the Architecture Components libraries. She has been working with Android for 8 years, previous work covering news at upday, payment solutions at payleven and navigation services at Garmin.

Florina tweets at @FMuntenescu.

×

10:30

Tea & Coffee Break

10:45

Testing Android apps based on Dagger and RxJava

Fabio Collini

---

mockito

dagger

android

droidconuk

rxjava

testing

Testing Android apps based on Dagger and RxJava
Fabio Collini

Writing reliable tests is not easy for many reasons, especially when asynchronous code is involved. Some libraries can be used to create a testable architecture (for example Dagger and RxJava) and to simplify testing (Mockito, AssertJ and DaggerMock). In this talk you'll learn how to write JVM and Espresso tests with particular attention on how to replace real objects with mocks and how to test asynchronous RxJava code. In this talk, you will also explore:

how to take advantage of Mockito and other libraries to write good JVM and Espresso tests in both Java and Kotlin
how to use DaggerMock (an open source library available on github to avoid boilerplate code in tests
how to test asynchronous RxJava code using a JVM test

mockito dagger android droidconuk rxjava testing

---

About the speaker...

Fabio Collini is an Android developer since 2009, first as a freelance with two apps on Play Store and then as senior developer. Now he works at Nana Bianca, a startup accelerator in Florence. He is one of the authors of the second edition of Android Programmazione Avanzata, an Italian book dedicated to some advanced aspects of Android development.

He is a co-owner and writer for the blog CodingJam dedicated to Java, Android and web development.

Fabio tweets at @fabiocollini.

×

Bridging the Gaps: Online to Offline world of Mobile Apps

Ajit Singh

---

network-APIs

design&architecture

offline-mode

android

droidconuk

testing

Bridging the Gaps: Online to Offline world of Mobile Apps
Ajit Singh

With great development efforts, comes great responsibilities as well as BUGS! This talk is about an App Ajit and his Team built for one of the major airline carrier based out in America. This is a widely used app and has almost 1 crore downloads on play store. While travelling, most of the time, passengers are not in internet zone. Keeping this in mind, the ask was to develop the Offline Mode for the mobile Applications, so that user can access basic things while in air. Ajit and his Team had to deliver this seamless integration of Online and Offline modes, at the same time maintaining the brand value by releasing a bug free code. This talk is about the pain points and learnings Ajit and his Team had, while building this functionality.

network-APIs design&architecture offline-mode android droidconuk testing

---

About the speaker...

Ajit Singh works as a consultant at ThoughtWorks Inc. A blogger, loves scribing about technologies. Worked on various technologies, to name a few - Android, Java, RoR and NodeJS. He loves contributing to the open source projects. His recent contributions in open source includes Google's Espresso library. He has written many ruby gems and an Android library. He is an active speaker in various conferences conducted by ThoughtWorks Inc.

×

Common Poor Coding Patterns and How to Avoid Them

Alice Yuan

---

performance

rxjava

testing

architecture

ui

Common Poor Coding Patterns and How to Avoid Them
Alice Yuan

Every engineer has great intentions when diving into a codebase. You want to make the code beautiful, easy to read, and modular. However as time passes and quick-fix bugs are put in, somehow your android codebase turned into a mess of multiple levels of inheritance of views and fragments and it takes forever to figure out exactly where a certain component exists.

Alice will share with you common poor patterns within android that many developers make and how to avoid or refactor them. All these mistakes previously existed within the Pinterest codebase! During Alice's talk you will learn: static class patterns and why they're a pain, separating away network calls from the main views, writing testable code, and misuse of a static eventbus. Alice's android team at Pinterest has learnt a lot through the process of refactoring their entire codebase to MVP paradigm and would like to share it with everyone else!

performance rxjava testing architecture ui

---

About the speaker...

Alice is currently at Pinterest as an Android developer for Pinterest. During her time there, she's worked on performance optimizations and writing the performance logging framework, rearchitecting the android codebase in MVP paradigm and architecting the ui component library. Outside of the Android world, she is passionate about dance, photography, traveling and finding good restaurants.

×

OpenYOLO: Authentication made easy and secure

Iain McGinniss

---

security

authentication

OpenYOLO

android

droidconuk

OpenYOLO: Authentication made easy and secure
Iain McGinniss

Authentication is one of the most frustrating parts of using apps and websites, and a serious bottleneck for growth. What if authentication could be reduced to a single tap, without compromising on security?

OpenYOLO is a protocol for credential exchange between apps and the user's credential manager, and it achieves exactly this goal. It is a new OpenID Foundation standard which allows for programmatic access and update of user credentials. It is being fully supported by 1Password, Dashlane, Google, Keeper and LastPass.

In this talk Iain will describe how OpenYOLO works, and share with you examples of how it can be easily integrated into an existing application.

security authentication OpenYOLO android droidconuk

---

About the speaker...

Senior engineer on the Google Identity Platform team. Recovering type theorist. Homebrewer.

×

2

Resource Overlays

Zoran Jovanovic and Mårten Kongstad

---

OEM

Rjava

android

droidconuk

Resource Overlays
Zoran Jovanovic and Mårten Kongstad

Has R.java ever made you wonder what exactly those strange number IDs mean? Do you want to know what powers the theming engines on your favorite devices and mods? In this talk you will learn from the creators of Runtime resource overlays exactly how resources are implemented in Android, how to use them most efficiently and further more how to replace them, split them and do just about anything with them using tools of OEMs and modders.

OEM Rjava android droidconuk

---

About the speakers...

With background in Math and CompSci came to Sony Ericsson in 2008 to work on Security and moved on to position in Architecture team. As Master Architect involved in most phone projects over the years, in some as lead engineer. I spend most time working in open source and more specifically Android Open Source Project.

Mårten is the author of Runtime Resource Overlay (RRO), a feature in the Android framework which allows the injection of additional resources in running applications. This can be used as the basis of higher level features such as Android themes or device customization. Mårten has been involved in Android since it was first made available outside Google. Over the years, the main focus has been on the Android framework. Today, Mårten is involved in the advancement of RRO and the Android Open Source Project.

×

11:15

Tea & Coffee Break

11:30

Superstyling

Chris Banes

---

styling

android

droidconuk

Styling your Android app has always been a bit of a dark art. Chris will share with you the patterns which allow you to conjure up your themes and styles, without pulling your hair out when you come to update them in a few months time. You will also learn about some of the limitations of Android's styling system, and the ways you can mitigate them.

styling android droidconuk

---

About the speaker...

Chris is an engineer working on the Android Support Libraries at Google, most notably AppCompat, Design lib and Palette. He has worked on Android things for over 6 years, from open source libraries to media apps, social networks and most stuff in between.

×

Write Less Code and Get More Done: Multiplying Your Impact Through Mentoring

Jonathan Maltz

---

MVParchitecture

dagger

android

droidconuk

rxjava

Write Less Code and Get More Done: Multiplying Your Impact Through Mentoring
Jonathan Maltz

Mentoring and onboarding new engineers is one of the most important things you can do to grow your team. Effective and intentional mentoring decreases the number of bugs shipped to the Play Store, improves the quality of your application, and helps keep code standards high as your team grows and changes. Yet for all of its importance, there is hardly any information about how to mentor effectively. There are many resources about how engineers can get 4% productivity gains by learning new Android Studio shortcuts, but there are almost none about how they can get 400% productivity gains for their team by helping other developers be more productive. In this talk, Jonathan will share how to think about mentoring Android engineers from the ground-up. First, he'll discuss how to structure a plan for your mentee such that they move from "What's an ADB?" to "Let's use Retrofit, RxJava, and Dagger to make a testable app with MVP architecture" in no-time flat. Next, Jonathan will share how to interact with your mentee such that every challenge helps them level-up their development skills and build your team culture. Lastly, Jonathan will explore how you can use your experience as a mentor to improve your own engineering skills.

MVParchitecture dagger android droidconuk rxjava

---

About the speaker...

Jonathan is a full-stack engineer working on delivering people the tastiest food around as part of Yelp Eat24. Previously, he worked on the Yelp Android consumer app where he did his best to slip cute dinosaurs into every crevice where they didn't already exist. When he's not doing his best to write well tested, modular code, you can find him cutting up a rug at a local swing dance.

×

Merge like it's 2099

Xavier Gouchet

---

merge

android

droidconuk

Merge like it's 2099
Xavier Gouchet

Every developer working in a team of more than 2 person has experienced conflicts when merging, rebasing or cherry picking a commit. Resolving those conflicts is a tedious task and it's time for a change. Xavier will share with you a solution to merge smarter and not harder.

merge android droidconuk

---

About the speaker...

Xavier F. Gouchet is an Android architect at Deezer. There, he focuses on the core architecture of the apps, tools for all the Android developers, unit tests and administrate the CI systems. He has been dabbling in Android since the Cupcake days and has been working as an Android engineer since 2012.

×

♫ These are a few of my favourite (Android) Things ♫

Marcos Placona

---

Maker

IoT

AndroidThings

security

android

droidconuk

♫ These are a few of my favourite (Android) Things ♫
Marcos Placona

Android Things lets you build professional, mass-market products on a trusted platform without previous knowledge of embedded systems. It is estimated that by 2020 there will be 50 billion connected things.

Maker IoT AndroidThings security android droidconuk

---

About the speaker...

Marcos is a developer evangelist at Twilio where he serves communities in London and all over Europe. He is passionate about technology and security and spends a great deal of his time building mobile and web apps, and occasionally connecting them to physical devices.

Marcos is a great believer in open source projects. When he's not writing open source code, he's probably blogging about code.

×

12:15

Tea & Coffee Break

12:30

Pragmatic Kotlin on Android

Josh Skeen

---

FunctionalProgramming

kotlin

android

droidconuk

rxjava

Pragmatic Kotlin on Android
Josh Skeen

In this talk Josh will share how Kotlin isn't just syntactic sugar, it's a better way to build Android apps. We will start with a modern java-based Android project and walk through a complete migration to Kotlin.

In the process, you will see objective examples of how the Android concepts you're already familiar with are expressed in Kotlin more accurately, with less code, and with far fewer chances for bugs!

FunctionalProgramming kotlin android droidconuk rxjava

---

About the speaker...

Josh Skeen is an Android engineer and instructor at Big Nerd Ranch, an app development consulting and training company located in Atlanta, GA USA. When not working on client consulting projects, Josh teaches the Android Essentials bootcamp and enjoys researching new ways to use Gradle and RxJava and developing skills for Amazon's Alexa.

When not in front of his computer, you can find Josh running, practicing yoga, or creating electronic music.

×

Android Instant Apps

Benjamin Weiss

---

instant-apps

android

droidconuk

Android Instant Apps
Benjamin Weiss

Modularizing your app helps you deliver the smallest APK to your users, which is critical for building Instant Apps as well as working towards emerging markets.

instant-apps android droidconuk

---

About the speaker...

Ben is a Developer Programs Engineer at Google located in London. Here he works to make Android Developers live better.

Since 2009 he has been involved with Android, creating apps for several companies and organizations. Ben used to be involved in the Berlin Android community, co-organized several bigger events and presented on various Android related topics. Ben has recently developed Topeka for Android, a material design showcase. Furthermore, Ben is the developer behind the Crouton library for Android and held a Guinness World Record.

×

Authentic Developer

Anastasia López

---

vulnerability

android

droidconuk

Authentic Developer
Anastasia López

"Shame is the most powerful, master emotion. It's the fear that we're not good enough. Vulnerability is about showing up and being seen. It's tough to do that when we're terrified about what people might see or think." - - Brené Brown

We live in a society that's motivated by comparison, in a culture in which everything you do is never enough, one in which you are constantly engaging with people using shame, either to shame or to be shamed, and in which making yourself vulnerable – exposing your fears and uncertainties, taking emotional risks - is considered a form of weakness, and something most of us want to run away from.

But as an Android developer you cannot run away from being vulnerable. No matter your level, you will be constantly exposed, you are constantly vulnerable. With pull requests, stack overflow (questions or answers), blog posts, talks... You are being vulnerable. Unfortunately that means you are also more exposed to being shamed, to being told off on how wrong you are, or how little knowledge you have. This kind of behavior can be toxic and can lead to people feeling insecure about themselves (hello impostor syndrome).

It's not only you. This is something that affects all of us the moment we decide to be developers. And it has an impact in our growth, our jobs and the way we interact back with the community.

Anastasia will explore what shame and vulnerability really are, how we perceive it and how it affect us in the core of our interactions and our job. What makes Android developers vulnerable. You will learn the tools you are already using to fight against shaming behaviour, and what we can do in our day to day job to make it even better.

With this talk Anastasia want everyone to leave the talk knowing they are good enough, they are brave enough, and they can put a stop to toxic behavior we don't realize we do.

vulnerability android droidconuk

---

About the speaker...

Anastasia Lopez is a very passionate Software Engineer, working @ Movivo as an Android developer. She like cupcakes, chocolate, and all types of sweets, which is probably what led her to the Android world.

×

Making Dogfood Builds Testable and Fun

Eric Cochran

---

gradle

dogfooding

dagger

android

droidconuk

Making Dogfood Builds Testable and Fun
Eric Cochran

Android apps are fun to dogfood but sometimes complex to configure for testers. To be developed fast, apps need internal builds that don't rely on server teams. To test effectively, internal testers need options to force edge cases and navigate quickly.

To receive feedback, developers need to provide discoverable options to send reports. Tools like Dagger and Gradle build variants have made these wishes a reality for many, and Eric will also dig into how everyone can retrofit existing projects to be quickly configurable.

Eric will cover creative ways to get runtime bindings and debug options up and running in Android apps, old and new.

×

13:15

Lunch

14:30

2

Looking Forward to Chet Haase and Romain Guy Comedy Talk!

Chet Haase and Romain Guy

---

comedy

android

droidconuk

Looking Forward to Chet Haase and Romain Guy Comedy Talk!
Chet Haase and Romain Guy

comedy android droidconuk

---

About the speakers...

Chet is the lead of the Android UI Toolkit team at Google, where he works on animations, graphics, and performance. He also writes technical articles, writes and performs comedy, and gives presentations at developer conferences like Droidcon London 2015.

×

Android Things: Building your own personal robot army

Adrian Catalan

---

IoT

AndroidThings

api

android

droidconuk

Android Things: Building your own personal robot army
Adrian Catalan

Android Things is the new kid on the IoT block, it brings all the power of Android development to hardware platforms & IoT devices. Any Android developer can start using the Android SDK and many of the APIs that we are familiar with, to blink a LED, build a cloud doorbell, the next IoT product or our own (non-evil) robot army.

In this talk, you will learn the new set of APIs that Android Things bring to devs, what supports, how to start and how to approach the platform as hobbyist, without necessary having an electronics background and how to build some Android powered robots.

IoT AndroidThings api android droidconuk

---

About the speaker...

Adrián has been involved in software industry for 13+ years, working both in web and mobile apps. GDG Guatemala, GuatemalaJS and Nodebots former co-organizer. Currently he leads the Innovation Lab at Galileo University and is a Google Developer Expert(GDE) for Android, IoT and Firebase.

×

Bluetooth Low Energy on Android: Top Tips for the Tricky Bits

Stuart Kent

---

bluetooth

BLE

api

android

droidconuk

Bluetooth Low Energy on Android: Top Tips for the Tricky Bits
Stuart Kent

Bluetooth Low Energy (BLE) powers the Internet of Things (IoT): smart watches, smart bulbs, and smart cars all use it for short-range communication. Now that 90% of Android consumer devices and 100% of Android Things devices run software that supports BLE, there's never been a better time for Android developers to jump into the rapidly-growing IoT ecosystem and start building their own companion apps or custom smart devices.

Unfortunately, Android's Bluetooth stack has a well-deserved reputation for being difficult to work with. The documentation is patchy, the API abstractions are leaky, and the stack itself is unreliable. Stuart worked through all these challenges while building a pro audio app at the start of 2017, and now he's sharing his story with you to save you time.

The beginning of this talk will cover BLE basics. The remainder will showcase code samples and strategies for tackling the quirks of the Android Bluetooth stack. No prior experience with BLE is required to enjoy this talk. You'll leave excited to tinker with BLE on Android and equipped with a roadmap and toolkit to help you navigate the nasty parts.

bluetooth BLE api android droidconuk

---

About the speaker...

I'm a software developer with 3 years' mobile experience. I currently work at Detroit Labs creating native Android and iOS apps for national and international brands in the utilities, QSR, automotive, and pro audio industries. Before becoming a developer, I taught college and earned a Ph.D. in Applied Math. Likes: Enums. Dislikes: dogmatism.

×

15:15

Tea & Coffee Break

15:30

2

Why you should use Litho too

Emil Sjölander and Pasquale Anatriello

---

testability

litho

android

droidconuk

Why you should use Litho too
Emil Sjölander and Pasquale Anatriello

At Facebook, across the last year, Pasquale and Emil have seen Litho improve code quality, performance, and testability. Previously you might have heard about how Litho can help improve the performance of your apps. In this session you will learn how Litho helps you write less and cleaner code and allow you to focus on shipping great features to your users.

×

Hands-on with Cloud Functions for Firebase

Laurence Moroney

---

cloud-functions

serverless

firebase

android

droidconuk

Hands-on with Cloud Functions for Firebase
Laurence Moroney

Cloud Functions for Firebase will give you a serverless way to implement logic in your apps. In this talk, Laurence will take you through how to implement Cloud Functions for Firebase including setting up logic to execute on database events, where a notification can be sent to a user upon data changing, login events, where processing can happen upon a user signing up or signing in, and analytics events.

cloud-functions serverless firebase android droidconuk

---

About the speaker...

Laurence Moroney has authored more programming books than he can remember.

A well known speaker at conferences such as Google IO, Microsoft Build, and others, he's passionate about mobile development, and Android in particular. When not messing around with development, he's a published Sci-Fi novelist and produced screenwriter.

Follow Laurence on @lmoroney, and read his blog at laurencemoroney.com.

×

Kotlin Coroutines and Android sitting in a tree

Kai Koenig

---

anko

async

coroutines

kotlin

android

droidconuk

Kotlin Coroutines and Android sitting in a tree
Kai Koenig

Since the release of Kotlin 1.1 there is now the new language feature of Kotlin Coroutines available for use in Java and Android projects. Coroutines are a new way to write asynchronous and non-blocking code. They can be thought of as light-weight threads without having to deal with all the problems that threads bring to the table.

A lot of developers think that Kotlin Coroutines are mainly or only useful for Kotlin on the JVM, but that's not true. There are a variety of use cases in which the application of Coroutines can make a lot of sense on Android.

This talk is introducing the ideas behind Kotlin Coroutines, showing how to use them in Kotlin code for both the JVM and Android via the kotlinx-coroutines APIs and then exploring specific applications in Android. Part of this is a deeper look into the use of Coroutines in higher-level frameworks such as AsyncAwait and Anko.

anko async coroutines kotlin android droidconuk

---

About the speaker...

I work as a Software Solutions Architect for Ventego Creative in Wellington, New Zealand. I co-founded the company with two partners and I'm also the CTO of Zen Ex Machina, a startup in the fields of digital & user experience consultancy based out of Canberra in Australia.

My work really comprises a mix of consulting, training, mentoring and actual development work using a range of technologies, common themes being Java, CFML, JavaScript, Android etc. I'm well versed in Java and some other JVM-based languages like Clojure or Groovy and recently (re-)discovered the pleasure of writing software in Python and Go. Kotlin is my new language love though.

Other stuff I occasionally do: Write for magazines (currently mainly Heise's iX in Germany) or in my Blog, publish a Podcast (2 Developers Down Under) with my friend Mark Mandel from Melbourne and since 2007 fly small, single-engine airplanes around New Zealand and sometimes Australia, currently working on my Commercial Pilot License.

Kai tweets at AgentK.

×

16:15

Tea & Coffee Break

16:30

2

Litho Animations and Internals

Marco Cova and Andy Street

---

litho

android

droidconuk

Litho Animations and Internals
Marco Cova and Andy Street

Marco and Andy are going to describes how the internals of Litho works in regards of drawing components on screen and they will share how to empower the developers to easily animate between layouts.

litho android droidconuk

---

About the speakers...

Extremely passionate android dev. He has worked with different companies all in the "Social" space until he joined Facebook. He was part of Creative Labs where he developed and released the Facebook app "Riff". Since almost two years he's been working on the Native UI Frameworks team that recently release the Litho framework.

×

When Your App's Asleep

Britt Barak

---

androidDev

androidUX

whatsnew

android

droidconuk

When Your App's Asleep
Britt Barak

Amazing UX, delighting UI, wonderful performance.. You already know what to do in order to make users love your app when using it. But as app session lasts around 5 minutes, there's a large portion of the day where your app is not being used. When your app is sound asleep what can you do to remind your users that your app is the best?

Britt will explore how to make your app pop and shine, even when is not on the foreground, and increase retention dramatically! Brand new Android O features, notifications, shortcuts, animated launcher icons.. Your app won't be sleeping for long ;)

androidDev androidUX whatsnew android droidconuk

---

About the speaker...

Born and raised in Israel, the "Startup Nation", Britt has started and lead the mobile teams on various startup companies, currently leading a stealth mode startup. Passionate about Android, she is co-leading Android Academy TLV which is one of the largest and most active Android communities out there. Britt is also Women Techmakers Israel community lead and act to promote diversity in tech.

×

Building a Minimum Viable Product (MVP) with Face recognition and AR in Android

Raul Hernandez

---

AI

mvp

imagerecognition

ar

machine-learning

android

droidconuk

Building a Minimum Viable Product (MVP) with Face recognition and AR in Android
Raul Hernandez

Raul will introduce a use case for building a "Minimum viable product" (MVP), talking about machine learning (face recognition) on Android devices with Augmented reality (AR). You will learn how to plan those kind of projects, the process to follow and future work for those specific projects. Indicating "how", "what" and "why".

AI mvp imagerecognition ar machine-learning android droidconuk

---

About the speaker...

I am a passionate software engineer currently focused on Android, I have lived, studied and worked in different countries, therefore I enjoy pretty much knowing other cultures and ways of working, as can be seen at my blog.

×

2

Travelling across Asia - Our journey from Java to Kotlin

Maria Neumayer and Amal Kakaiya

---

productivity

teamwork

kotlin

android

droidconuk

Travelling across Asia - Our journey from Java to Kotlin
Maria Neumayer and Amal Kakaiya

Kotlin has established itself in the Android development community since v1.0 last year, and with official support announced at I/O this year, it's an exciting time to get started with this language in your work.

This talk will take you through Deliveroo's journey from a full Java codebase to using Kotlin across the project. Learn how to get your colleagues involved and convert them to Kotlin supporters. You will also learn how they got started, the problems they ran into and how Kotlin can improve your codebase, your app and your sanity.

productivity teamwork kotlin android droidconuk

---

About the speakers...

Maria Neumayer is an Android Developer working at Deliveroo. She's been developing for Android for more than seven years with a focus on UI work. Austrian expat living in London. Previously at Citymapper, Path, Saffron Digital and Rummble.

Amal Kakaiya is an engineer working on Android at Deliveroo in London. He's been coding professionally for the last 5 years, 3 of which have been on Android. He is particularly interested in performant layouts and writing in Kotlin. Hailing from Glasgow, Scotland, Amal is also a keen triathlete and when not at a computer can be found cycling, running or swimming in and around East London.

×

17:15

Tea & Coffee Break

17:30

Looking forward to Jake Wharton's Keynote Talk!

Jake Wharton

---

Looking forward to Jake Wharton's Keynote Talk!
Jake Wharton

---

About the speaker...

Android developer for Square working on Square Cash. Has a long-time severe allergy to boilerplate code and for years has been raising awareness on the issue as well as leading efforts to eradicate this horrible disease that plagues modern developers.

×

18:30

End of droidcon London 2017 - See you at droidcon London 2018!
Business Design Centre
Situated in Islington, one of London's most vibrant areas, the BDC is within walking distance of Angel tube station and relatively close to Kings Cross, Farringdon, Liverpool Street and Euston stations. Conveniently located outside the congestion charge zone, the venue also benefits from on-site car parking, an adjacent Hilton Hotel, and has disabled access.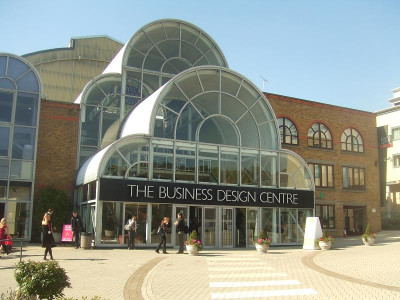 Get Involved
Would you like to help us facilitate a great conference? Help us set up the conference spaces, introduce talks and speakers, field Q&A questions with mics, or support some of the workshops and hacks we've got in store? Sign up as a volunteer and get a free ticket to the conference!
Call for Papers is now CLOSED!
The Call for Papers is now CLOSED! Thanks for submitting a proposal, the response's been overwhelming and we are currently working on selecting talks. Click here to stay up to date and find out more on speakers as we'll start publishing the line-up very soon!
Carry on the fun of Droidcon with droidcon2gether!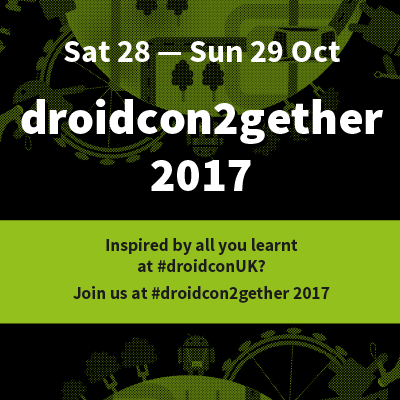 Further the ideas sparked and the friendships made at Droidcon with a weekend of free, Android community activities! If you want an extra two (free!) days of workshops and challenges - with cool prizes up for grabs - then dive on into Droidcon2gether!
Join fellow Droidcon attendees and some of the most talented coders and experts, for our new weekend-long
Droidcon2gether
event and create something amazing together!
Participation is free for registered attendees. Head
here
to register.
Whether you are seeking to improve visibility of your tools, devices or projects, or simply would like to support the droidcon's passionate community through your engagement, our sponsorship team will be able to help you select the best sponsorship package for you! Email sponsors@skillsmatter.com or phone 0207 183 9040.
Available Packages
DROIDCON COMMUNITY SKILLSCAST SPONSORSHIP

Be remembered! Have your logo displayed on all Droidcon SkillsCast recordings!

Skills Matter will record almost every talk held at Droidcon and will publish these as SkillsCasts on Skills Matter.com. SkillsCasts are available to Skills Matter's 100,000+ strong (member) community and comprise of film footage as well as all code and slides presented in the Droidcon talks.

If your company would like to sponsor this year's Droidcon SkillsCasts, your logo will appear along with one other sponsor logo and the Droidcon organiser logo's inside all recorded SkillsCasts(*).

Brand Visibility Benefits

Your logo on all Droidcon SkillsCasts, available to Skills Matter's 50,000 strong member community.
Exclusive to two Droidcon sponsors and two Droidcon organisers only!

(8) Logo's of other sponsors will appear below on the SkillsCast pages, below the actual SkillsCast. Our SkillsCast sponsors' logo's will appear on the actual SkillsCast video.
To discuss sponsorship opportunities please contact the team:
Would you like to write about droidcon London 2017? Do you blog on mobile application development? Come and join us at droidcon London 2017! If you blog about droidcon London 2017 and send us the link, and we'll proudly feature you on these pages!
And if you would like to write an article or interview some of droidcon's amazing speakers, inventors and thinkers this year, contact marketing team and have a chance to win a free press pass.
Write ups about droidcon London 2016 (and past editions too)!
Hold tight, skillscasts coming soon!