2 DAY CONFERENCE
droidcon London 2019
Topics covered at

#droidconUK
Take your Android development skills to new levels at droidcon London 2019, the biggest Android developer conference in Europe.
droidcon London will be back in 2019 after its 10th Birthday Celebrations!
Last year, developers from around the world gathered to listen to a range of keynote speakers, grow their skills, connect with other passionate Android developers and celebrate droidcon London's 10th Anniversary!
This year, we'll present once again two days packed with highly-technical talks from over 70 expert speakers.
Our droidcon London icons Chet Haase and Romain Guy will be back and we are also very excited to announce that Stacy Devino will join us with a Keynote talk!
Why you should attend:
Learn from experts.
Be inspired - leave with practical ideas you can implement straight away.
Develop connections - network with other Android developers.
Explore London - our central location puts this world-class city within your reach.
Diversity Scholarship Plan
Skills Matter is proud to share our Diversity Scholarship Plan which provides support to those from traditionally under-represented and/or marginalised groups who may not normally have the opportunity to attend this event.
More information here.
Code of Conduct
We are committed to providing a friendly, safe and welcoming environment for all. Learn more in our Code of Conduct.
Tickets
Payment by major credit/debit cards, PayPal & Bank Transfer is accepted.
Book Now →
Watch Last Year's Talks
View free SkillsCast recordings of last year's talks.
View SkillsCasts →
We look forward to welcoming back Jake Wharton to droidcon London 2019!
Android Framework engineer at Google working on Kotlin things. Has a long-time severe allergy to boilerplate code and for years has been raising awareness on the issue as well as leading efforts to eradicate this horrible disease that plagues modern developers.
Keynote: Extremely excited to have Stacy Devino at droidcon London 2019!
Stacy is a Google Developer Expert for Android, Intel Innovator, Google Developer Group Mentor, and WTM Lead. She has worked on Android Applications down to the whole Android OS and even developed IoT appliances from the ground up which are in use by companies like Apple and Amazon and has work featured on Wired, Gizmodo, and Geek.com. Apps she has built have tens of millions of active users and developed cloud solutions at scale. She currently works for Nike s23NYC Labs doing Android apps like the SNKRS app, Augmented Reality, Machine Learning, and touch of InfoSec focused on delivering exceptional customer mobile experiences.
Our icons Chet Haase and Romain Guy will be back to droidcon London 2019!
Chet is the lead of the Android UI Toolkit team at Google, where he works on animations, graphics, and performance. He also writes technical articles, writes and performs comedy, and gives presentations at developer conferences like Droidcon London.
Business Design Centre
Situated in Islington, one of London's most vibrant areas, the BDC is within walking distance of Angel tube station and relatively close to Kings Cross, Farringdon, Liverpool Street and Euston stations. Conveniently located outside the congestion charge zone, the venue also benefits from on-site car parking, an adjacent Hilton Hotel, and has disabled access.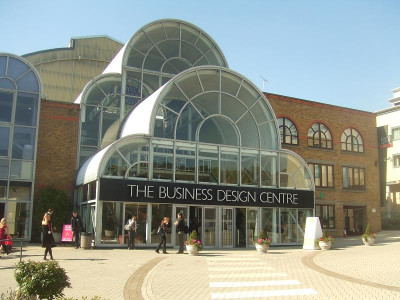 Help Us Shape the Conference - Share your ideas here!
We'd love your ideas on how we can better create the next edition! Let us know what kind of conference you would enjoy, share with us which experts you would like to learn from and contribute to the direction of the event! Share your ideas in the form below.
Call for Volunteers at droidcon London 2019
Would you like to help us facilitate a great conference? Help us set up the conference spaces, introduce talks and speakers, field Q&A questions with mics, or support some of the workshops and hacks we've got in store? Email us at conferences@skillsmatter.com and we will put your name down as a volunteer for droidcon London 2019! Shifts and detailed info will be confirmed closer to the conference.
droidcon London 2019 Diversity Scholarship Plan
Skills Matter is proud and happy to share once again our droidcon London Diversity Scholarship Plan, which provides support to those from traditionally underrepresented and/or marginalized groups in the technology and/or open source communities who may not have the opportunity to attend droidcon London for various reasons.
Scholarships are awarded based on a combination of need and impact. Scholarship recipients will receive a complimentary ticket to the conference.
Please note, travel expenses are not covered under this scholarship and are the responsibility of the scholarship recipient.
Eligibility
Applicants should be from a traditionally underrepresented and/or marginalised group in the technology and/or open source communities and would be unable to attend without some assistance.
Joining us for droidcon London 2019 and want more? Make it a whole week of Android learning with these fringe courses...
Call or email our team about the droicon Fringe Package for a special discount on bundle tickets!
Brian Egan's Flutter and Dart Workshop
22nd - 23rd October 2019
Want to learn to build beautiful Flutter apps that users can navigate through easily, fetching data along the way? Join this two-day hands-on workshop with Brian Egan! Mobile development is a difficult task these days. Not only do you need to write beautiful, high performance apps that work on low-powered devices with intermittent connectivity, you need to write your apps twice! Once for iOS and again for Android. Google's new UI framework allows you to develop high quality apps for both operating systems using a single code base. Learn to speed up your mobile development and ship to both platforms with this fun framework!
Get your ticket here
Fast Track to Android Architecture with Jorge Ortiz Fuentes
21st - 23rd October 2019
Are you passionate about clean code and want to learn how to implement advanced architectures in Android applications? Join Jorge Ortiz Fuentes for this three-day course and follow an iterative and constructive path to build the greatest and most complex applications while keeping your code reusable, maintainable, testable, and decoupled.
This is a hands-on workshop, where you will write code in your platform, using a trusted codebase and with support and guidance from the instructor. Students will have access to a Git code repository so that they can flexibly review parts of the course as they learn.
Get your ticket here
Real World Kotlin Development Workshop
22nd - 23rd October 2019
Would you love to take full advantage of Java without its verbosity? Wish there was a better way to avoid NullPointerExceptions? Want to be able to still rely on first-class tooling and industry support? If so, then this workshop will show that is now possible.
In this workshop David Denton and Ivan Sanchez will show you the language's powerful, developer-friendly features, how they relate to what you know already, and to safely and incrementally migrate them existing Java codebases to Kotlin.
Get your ticket here
Whether you are seeking to improve visibility of your tools, devices or projects, or simply would like to support the droidcon's passionate community through your engagement, our sponsorship team will be able to help you select the best sponsorship package for you! Email sponsors@skillsmatter.com or phone 0207 183 9040.
Available Packages
To discuss sponsorship opportunities please contact the team:
Press Pass Registration
Skills Matter gives out Press Passes to both in-house and freelance editors, journalists, bloggers and influencers. We encourage those who have a genuine passion for tech and love to share great stories with tech communities and industries to apply.
Hold tight, skillscasts coming soon!