2 DAY CONFERENCE
droidcon London 2019
Topics covered at

#droidconUK
Take your Android development skills to new levels at droidcon London 2019, the biggest Android developer conference in Europe.
droidcon London will be back in 2019 after its 10th Birthday Celebrations!
Last year, developers from around the world gathered to listen to a range of keynote speakers, grow their skills, connect with other passionate Android developers and celebrate droidcon London's 10th Anniversary!
This year, we'll present once again two days packed with highly-technical talks from over 70 expert speakers.
Our droidcon London icons Chet Haase and Romain Guy will be back and we are also very excited to announce that Stacy Devino and Christina Lee will join us with Keynote talks!
Why you should attend:
Learn from experts.
Be inspired - leave with practical ideas you can implement straight away.
Develop connections - network with other Android developers.
Explore London - our central location puts this world-class city within your reach.
Call For Papers is now CLOSED
Thanks for submitting a proposal, the response's been overwhelming and we are currently working on selecting talks. Click here to stay up to date and find out more on speakers as we'll start publishing the line-up very soon!
Volunteer
Get a free ticket in exchange for some help setting up the conference and a few hours on the days of the conference.
More information here
Diversity Scholarship Plan
Skills Matter is proud to share our Diversity Scholarship Plan which provides support to those from traditionally under-represented and/or marginalised groups who may not normally have the opportunity to attend this event.
More information here.
Code of Conduct
We are committed to providing a friendly, safe and welcoming environment for all. Learn more in our Code of Conduct.
Tickets
Payment by major credit/debit cards, PayPal & Bank Transfer is accepted.
Book Now →
Watch Last Year's Talks
View free SkillsCast recordings of last year's talks.
View SkillsCasts →
Day 1: Thursday 24th October 2019
The rooms will be allocated two days before the conference! Please note that this schedule is still subject to changes - watch this space :)
Track
Track 1
Track 2
Track 3
Track 4
Track 5 - Workshops
08:00

Registration & Breakfast

09:20

Welcome to #droidconUK 2019 - Day 1

09:30

Keynote: Christina Lee

Christina Lee

---

kotlin

coroutines

android

mobile

Day 1, 24 Oct starts 09:30

Keynote: Christina Lee
Christina Lee

kotlin coroutines android mobile

---

About the speaker...

Christina is a Software Engineer and Android GDE at Pinterest, where she works on the Core UI platform team.

×

10:30

Tea & Coffee Break

10:45

Rx in Multiplatformland

Sergey Ryabov

---

reaktive

flow

reactive-extensions

multiplatform

kotlin

android

mobile

Day 1, 24 Oct starts 10:45 (Track 1)

Rx in Multiplatformland
Sergey Ryabov

Reactive programming has firmly become one of the modern Android developer's tools. More and more teams apply fully reactive architectures for their apps utilizing MVI approach. This plays well for separating OS-independent business logic from presentation layer. And while it can be implemented really nice using Kotlin, what if you want to expand this solid base further and don't repeat yourselves on every platform? What if you want to enter Multiplatformland? Obviously, RxJava is not ready for that journey. But is their really no alternatives?

In this session, you will discover how you can adapt Unidirectional Data Flow for a Kotlin multiplatform project. You will explore mutliplatform alternatives to RxJava, such as Flow from Kotlin team and Reaktive from Badoo, and speak about refactoring a MVI project to untie it from JVM and make it reusable on different platforms.

reaktive flow reactive-extensions multiplatform kotlin android mobile

---

About the speaker...

Sergey is a Software Engineer in London, currently works on Android UI Frameworks. He is a co-organiser of the first Kotlin User Group in Russia and Android Academy in SPb and Moscow, usually speaks about Kotlin & Android. Rx addict, Kotlin early adopter.

×

Supporting Each Other: Growth for Juniors and Seniors

Lara Martín

---

management

hiring

teams

mentoring

company-culture

android

mobile

Day 1, 24 Oct starts 10:45 (Track 2)

Supporting Each Other: Growth for Juniors and Seniors
Lara Martín

Bringing Junior developers into your team can be a challenge, but it can also be rewarding. Mentoring can benefit both sides: It can help juniors with the most difficult moment in their career, and it can help seniors become better professionals. Come and learn how juniors and seniors can support each other and grow together.

You can benefit from this talk no matter what's your level of expertise. As a junior, you will learn that you are not alone, that you can stop the impostors syndrome, and to be a better apprentice. As a senior, you will learn the benefits of being a good mentor, and how to become one. Lara will share her experience as a developer who is working on growing up in the career ladder.

management hiring teams mentoring company-culture android mobile

---

About the speaker...

Lara is a self-made Android developer based in Berlin. Her passion for Android made her transition from her background in science to software development. Her dream is to make apps more accessible for everyone. When she's not attending a tech meetup, you will find her playing video games.

×

Measure What Matters with Jetpack Benchmark

JB Lorenzo

---

jetpack

benchmark

android

mobile

Day 1, 24 Oct starts 10:45 (Track 3)

Measure What Matters with Jetpack Benchmark
JB Lorenzo

Benchmark is one of the new interesting libraries recently released by the Jetpack team at Google. This library allows you to measure the speed of certain parts of your application. This is helpful to validate certain parts of your app that are repeatedly accessed such as going into details of items, or scrolling through an infinite list.

The measurements help you monitor if your app performance is slowing down. Because of this, you can integrate it to your CI. In this session, JB will share with you a real life scenario of benchmarks on the OLX app and show you how you can integrate it in your CI tool.

jetpack benchmark android mobile

---

About the speaker...

JB is a geeky mobile expert from Berlin. JB has been with OLX Group for more than three years, two years of which are from the Philippines and the rest from Berlin. Before that he worked for 4 years in a company that serviced clients such as NFL, HSN and other large media companies. He likes exploring new technologies related to mobile, especially those that can improve developer productivity. JB enjoys experiencing different cultures via food, language, and travel.

×

Dependency injection from zero to hero with Koin

Arnaud Giuliani

---

koin

dependency-injection

pragmatic

kotlin

android

mobile

Day 1, 24 Oct starts 10:45 (Track 4)

Dependency injection from zero to hero with Koin
Arnaud Giuliani

Koin is a pragmatic dependency injection framework for Kotlin/Android developers.

In this session, you will discover how Koin will make your life easier thanks to the power of Kotlin language: from basics to the setup of Android architecture's components, without forgetting the testing part... And of course, how to migrate your "old" Dagger project.

You will also learn about the new 2.0 release and some advanced APIs!

koin dependency-injection pragmatic kotlin android mobile

---

About the speaker...

Arnaud has been a software developer for more than 12 years.

For a while now, he has mainly worked as a Senior Android developer and keeps his hands in backend stuff. He has been a speaker since 2016 and mostly talks about Kotlin, Android & Koin.

In 2017, Arnaud created Koin, a lightweight dependency injection framework for Kotlin.

×

Workshop: Unit Test Your Views - Part 1

Jorge Ortiz Fuentes

---

testing

mobile-architecture

android

mobile

Day 1, 24 Oct starts 10:45 (Track 5 - Workshops)

Workshop: Unit Test Your Views - Part 1
Jorge Ortiz Fuentes

This is a hands on workshop to learn how to fully test your app, focusing on the view part of the architecture without using instrumentation. In this session, Jorge will share a simple but well-architected application using Android Architecture Components. Then, he will use Robolectric, ActivityScenario and FragmentScenario for writing the tests with you. You will discover how good architecture helps to test, but not from a theoretical perspective, but by actually writing unit tests for the different pieces of the application. This is an important first step towards achieving real continuous integration and improving the quality of your apps.

testing mobile-architecture android mobile

---

About the speaker...

Jorge is a freelancer dedicated to mobile development, security, and systems architecture. He started his work as a developer at M.I.T. in 1993 and since has collaborated in numerous software projects. Most of them were internally for HP where he worked for more than 15 years. Since 2008 he has been working in different aspects of mobile development. After playing with PalmOS, he learned Android programming for the first Google App contest and immediately started to play with the first iPhone SDK. He is an instructor in the best iOS and Android Bootcamps in the USA and Europe, and has spoken at some of the world's most renowned conferences about topics relating to mobile app architecture and best practices (and occasionally about Go and Raspberry Pis).

×

11:30

Tea & Coffee Break

11:45

A deep dive into Google Play Billing Library

Kai Koenig

---

billing

google-play

monetisation

in-app-billing

android

mobile

Day 1, 24 Oct starts 11:45 (Track 1)

A deep dive into Google Play Billing Library
Kai Koenig

Google's APIs and libraries used for in-app-billing users from inside of your app, are confusing at best. The new star on the horizon is Google Play Billing Library, centered around a BillingClient class. GPBL is supposed to make your life much easier - but does it really?

In this session, you will discover the infrastructure around Google Play Billing Library and its usage. You will briefly explore the setup and basic implementation patterns inside of your app and then look behind the scenes and into the internals and implementation of the library itself. This approach will help significantly in gaining a better understanding of the library developer's intent.

A part of the session will be a close look into and a discussion of the provided samples and the issues they pose. Looking at them with a critical eye it'll be possible to understand what the good and what the bad parts of GPBL are and how to structure your implementation the best way.

billing google-play monetisation in-app-billing android mobile

---

About the speaker...

Kai works as a Software Solutions Architect for Ventego Creative in Wellington, New Zealand. He co-founded the company with two partners and is also the CTO of Zen Ex Machina, a startup in the fields of digital & user experience consultancy based out of Canberra in Australia.

Kai's work comprises a mix of consulting, training, mentoring and actual development work using a range of technologies, common themes being Java, Android, Kotlin, CFML, JavaScript etc. He is well versed in Java and some other JVM-based languages like Clojure or Groovy and recently (re-)discovered the pleasure of writing software in Python and Go. Kotlin is his newest language love though.

Other stuff Kai occasionally does: Writes for magazines, produces a Podcast (2 Developers Down Under) with his friend Mark Mandel from Melbourne/San Francisco and since 2007 fly small, single-engine airplanes around New Zealand and sometimes Australia.

Kai tweets at AgentK.

×

Safe Kotlin

Marcin Moskala

---

android

mobile

Day 1, 24 Oct starts 11:45 (Track 2)

Safe Kotlin
Marcin Moskala

You don't need to have any experience with development to get upset when the application you use crashes, or when there is an error on a website that does not let you check out after you spent an hour collecting products into a basket. Having fewer crashes makes the lives of both users and developers better, and it provides significant business value. In this presentation, you will discover the best practices to make Kotlin applications safer. You will explore how to deal with mutability, platform types, why inheritance can be dangerous, when explicit types are important, and much more.

android mobile

---

About the speaker...

Marcin Moskala is an experienced Android developer, teacher, and an official Jetbrains' Kotlin training partner. He is the founder of Kt. Academy, author of the book "Android Development with Kotlin", and an active programming community member. He is also the main author on the biggest medium publication about Kotlin and a speaker invited to many programming conferences

×

Effective Reactive Architecture

Benoît Quenaudon

---

stream

reactive

rx

architecture

android

mobile

Day 1, 24 Oct starts 11:45 (Track 3)

Effective Reactive Architecture
Benoît Quenaudon

Your relationship with RxJava doesn't have to be complicated. You may have found many ways to use it wrong but it is powerful when used properly. In fact, RxJava can guide you in shaping a sound architecture for your app. To do this, you only have to follow a few but decisive principles.

In this talk, you'll:

Explore how side-effect isolation can help avoiding bugs.
Learn how to model your data and share it as one unique stream between your view and your presenter.
Discover the ways a unidirectional data flow makes adding new functionality easy and safe.
Look at how you can easily deal with collateral side effects, such as navigation.

After this talk, you'll be able to write a robust and reactive architecture for your app, taking full advantage of RxJava.

stream reactive rx architecture android mobile

---

About the speaker...

Benoît is an Android developer at Square. He focuses on providing the sweetest Android experience possible, both to customers and fellow developers.

×

Co-routinify your Architecture Components

Garima Jain

---

co-routines

architecture-components

kotlin

android

mobile

Day 1, 24 Oct starts 11:45 (Track 4)

Co-routinify your Architecture Components
Garima Jain

A detailed look at recently introduced coroutine APIs for different architecture components.

Coroutines now support most of the architecture components, i.e. LiveData, WorkManager and Room. In this talk, you will discover how you can leverage coroutines for various layers within the app, ie. data, logic and presentation. Garima has been experimenting with coroutines, for quite some time now, and there were some missing pieces to easily utilise them for their whole stack. With the release of coroutine support for architecture components, you can now utilise the full power of coroutines. In this talk, you will explore the coroutine APIs of architecture components and how they fit into your stack.

co-routines architecture-components kotlin android mobile

---

About the speaker...

Garima Jain, also known as @ragdroid is working as an Android Engineer at Over.

Previously she has worked with Fueled Noida and Bharti Soft Bank (Hoppr, Hike). She is also an international speaker, CasterIO author and an active technical blogger.

×

Workshop: Unit Test Your Views - Part 2

Jorge Ortiz Fuentes

---

testing

mobile-architecture

android

mobile

Day 1, 24 Oct starts 11:45 (Track 5 - Workshops)

Workshop: Unit Test Your Views - Part 2
Jorge Ortiz Fuentes

This is a hands on workshop to learn how to fully test your app, focusing on the view part of the architecture without using instrumentation. In this session, Jorge will share a simple but well-architected application using Android Architecture Components. Then, he will use Robolectric, ActivityScenario and FragmentScenario for writing the tests with you. You will discover how good architecture helps to test, but not from a theoretical perspective, but by actually writing unit tests for the different pieces of the application. This is an important first step towards achieving real continuous integration and improving the quality of your apps.

testing mobile-architecture android mobile

---

About the speaker...

Jorge is a freelancer dedicated to mobile development, security, and systems architecture. He started his work as a developer at M.I.T. in 1993 and since has collaborated in numerous software projects. Most of them were internally for HP where he worked for more than 15 years. Since 2008 he has been working in different aspects of mobile development. After playing with PalmOS, he learned Android programming for the first Google App contest and immediately started to play with the first iPhone SDK. He is an instructor in the best iOS and Android Bootcamps in the USA and Europe, and has spoken at some of the world's most renowned conferences about topics relating to mobile app architecture and best practices (and occasionally about Go and Raspberry Pis).

×

12:30

Lunch

13:45

Do Not Go Gentle in that Good Night - Implementing a Dark Theme on Android

Faiz Malkani

---

android-styling

dark-themes

ux

material-design

ui

android

mobile

Day 1, 24 Oct starts 13:45 (Track 1)

Do Not Go Gentle in that Good Night - Implementing a Dark Theme on Android
Faiz Malkani

Google is bringing a system-wide dark mode to Android Q, and Material Design is evolving to adapt to this new change in the system.

Dark theme UIs use predominantly dark surfaces, with sparse color accents and maintaining a high standard of usability while retaining the simplicity and beauty of Material Design. Adapting a dark theme isn't as simple as swapping light colors for dark ones, however, and this is a common pitfall while first going dark. In this talk, you will discover the edification of developers and designers regarding the nuances of dark theming on Android, the areas that need special focus, the common pitfalls which teams should avoid, and a host of tips and best practices on smoothing the transition.

android-styling dark-themes ux material-design ui android mobile

---

About the speaker...

Faiz is a Google Expert for Design, working at Agrahyah Technologies. He helps designer and developer teams build usable and accessible products, evangelizing inclusive design, accessible technology, and community building

×

Improve your code with Lint checks for Kotlin

Emma Tresanszki

---

customlint

lint

codestyle

staticanalysis

kotlin

android

mobile

Day 1, 24 Oct starts 13:45 (Track 2)

Improve your code with Lint checks for Kotlin
Emma Tresanszki

One of the tools most commonly used for static analysis, that comes at no extra cost is Lint, so why not take full advantage of it.

You can now apply Android Lint to Kotlin modules as well. The number of supported built-in Lint checks is much lower though since not every Lint check that targets Android is also applicable to non-Android projects. But nonetheless, since you do have the possibility to define your own set of styling rules, this increases the readability and efficiency of your code. Plenty of new rules are available in open-sourced projects ready for you to grab, but sometimes you just can't find something that would match your company's code-style ruleset. In this session you will explore all the parts of a Lint check and write your own, then have it be statically checked across the project.

customlint lint codestyle staticanalysis kotlin android mobile

---

About the speaker...

As a Senior Android engineer at Scape Technologies, a hyper-accurate visual-based positioning service, Emma works on building a mobile SDK that allows AR content to be anchored at specific outdoor locations.

Her journey in mobile development took off with good old Symbian, moving on from apps to cross-platform SDKs, and now she's focused on open-sourced libraries.

×

The Focused Developer

Philipp Hofmann

---

personal-development

company-culture

android

mobile

productivity

Day 1, 24 Oct starts 13:45 (Track 3)

The Focused Developer
Philipp Hofmann

Are you more productive at home? To really get something done, do you do home office? If the answer is yes, something is wrong. Most modern offices and company cultures are primarily built to communicate and interrupt. Think, how often do you respond to a message within seconds? How often do you get interrupted by a colleague asking you a simple question, that probably could wait until the next day? Communicating at wrong times is a killer for productivity.

In this talk, Philipp is going to demonstrate and share how to stop this madness. In order to be really productive as a developer, you need long hours of uninterrupted focused work. You will discover the basic principles around deep work, a state of absolute productivity, that most developers would have never experienced. Finally, you will explore how mySugr is building an office and a company culture to maximize productivity for all employees while still inviting frequent communication.

personal-development company-culture android mobile productivity

---

About the speaker...

Philipp is the Android Tech Lead at mySugr in Vienna.

He drives improving the development process of the Android team including CI, improving build speed, getting rid of technical debt, configuring code style checks and increasing test automation. As the company is growing, he also takes care of improving the architecture so that multiple teams can work on the same app efficiently.

×

Do the Loco-MotionLayout: Building animations with MotionLayout

Michael Scamell

---

constraintlayout

transitions

motionlayout

animations

android

mobile

Day 1, 24 Oct starts 13:45 (Track 4)

Do the Loco-MotionLayout: Building animations with MotionLayout
Michael Scamell

You've heard, seen or witnessed the buzz around MotionLayout. But what does it look like in real life? What are some of its current limitations? How easy is it to use? Are the demos that you've seen actually possible? Or is it all a ruse?

In this session, you'll use MotionLayout to develop an animation taken straight from a crazy designer's mock-up. A mock-up that you see and crumble at just how long it would typically take you to build it on Android. Throughout this talk, you'll see some animated goodness and you'll learn some of the fundamentals of how MotionLayout works. You'll find out what a MotionScene is and how you can use it to separate your states and transitions from your layout, how to use click and swipe handling to trigger transitions, how you can take advantage of KeyAttributes to tweak animations at certain frames, how to use CustomAttributes to animate certain parts of a View and more!

You will leave this session armed with the basic knowledge required to start having fun with MotionLayout and creating your own animations and transitions. And you'll realise that the mad animations or transitions that your designers give you are now possible!

To never saying "no" to designers again*!

*Ok, sometimes you'll still have to say no.

constraintlayout transitions motionlayout animations android mobile

---

About the speaker...

Mike Scamell is a Senior Android Developer for some of the most popular sports and news apps in Europe; Sky Sports UK, Germany, Italy and Sky News. He's also the host of the Android Snacks podcast (currently on hiatus).

You'll often find him consumed with UI whether that's playing with VectorDrawables, SharedElementTransitions or meticulously tweaking an animation. Mike instantly fell in love with MotionLayout and has been finding creative uses for it ever since.

×

Workshop: Dive into the World of Architecture Components - Part 1

Miriana Itani

---

navigation

architecture-components

kotlin

mvvm

room

coroutines

android

mobile

Day 1, 24 Oct starts 13:45 (Track 5 - Workshops)

Workshop: Dive into the World of Architecture Components - Part 1
Miriana Itani

The workshop will dive into the power and usages of Google's latest architecture components. This includes developing an application in Kotlin using the MVVM design pattern. The application will show the advantages of having a ViewModel and how to efficiently use it. Therefore, at the end of the workshop, attendees will have a working android application fully capable of fetching data from the backend and saving it locally using Room. You will also establish a small communication between Activity and Fragment to show how LiveData makes the communication application and done the right way. In addition to that, you will get to use the new navigation library where Google urges to use One Activity with multiple fragments.

navigation architecture-components kotlin mvvm room coroutines android mobile

---

About the speaker...

Miriana is a senior android developer with various applications published on the playstore. She has an article to be published in IEEE, is the Vice President of Arab Women In Computing of the Lebanon Chapter, chosen by the New York University of Abu Dhabi, and also gives Android beginner and advanced courses at TechCampus.

×

14:30

Tea & Coffee Break

14:45

2

Three Approaches To Animations On Android

Connie Reinholdsson and Matt Carron

---

lottie

animations

android

mobile

Day 1, 24 Oct starts 14:45 (Track 1)

Three Approaches To Animations On Android
Connie Reinholdsson and Matt Carron

At comparethemarket.com they have explored a number of approaches to animation, including building them using the Android framework, leveraging Airbnb's animation library Lottie and using video. In this talk, they will show a step by step implementation of each approach and discover their benefits and pitfalls. They will then make recommendations about which approach is best to use in different use cases.

lottie animations android mobile

---

About the speakers...

Connie is an Android Engineer at comparethemarket.com. She is passionate about UI and curious about new tools and technologies to create a seamless user experience. She loves teaching programming and has given a number of android talks and volunteers as a coach for Code First: Girls to help minorities get into the tech industry.

Connie tweets at @conniereinhold1.

You can visit Compare The Market website here.

For the last 6 years Matt has been focusing on Android, most recently as a Senior Android Developer at comparethemarket.com. Coming after a 5 year journey raising the Android and greater mobile team at a fintech startup. Before Android his code was running on games consoles from the GameBoy to PS3.

Matt tweets at @MattawooCarron.

×

Creating smaller, faster, production-worthy mobile machine learning models for Android

Jameson Toole

---

machine-learning

android

mobile

Day 1, 24 Oct starts 14:45 (Track 2)

Creating smaller, faster, production-worthy mobile machine learning models for Android
Jameson Toole

Getting machine learning models ready for use on-device is a major challenge. Drag-and-drop training tools can get you started, but the models they produce aren't small enough or fast enough to ship. In this talk, you'll learn optimization, pruning, and compression techniques that keep app sizes small and inference speeds high.

You'll start by discovering flexible model architectures that meet performance and accuracy requirements across devices and platforms. You'll then learn pruning and distillation techniques to optimize model performance and use quantization tools to compress models to a fraction of their original size. Finally, you'll explore a practical example of this process as you create an artistic style transfer model that's just 17kb. All of these techniques will be applied to mobile machine learning frameworks for Android, i.e. TensorFlow Lite.

machine-learning android mobile

---

About the speaker...

Dr. Jameson Toole is the CEO and cofounder of Fritz—helping developers teach devices how to see, hear, sense, and think.

He holds undergraduate degrees in Physics, Economics, and Applied Mathematics from the University of Michigan as well as an M.S. and PhD in Engineering Systems from MIT. His work in the Human Mobility and Networks Lab centered on applications of big data and machine learning to urban and transportation planning. Prior to founding Fritz, he built analytics pipelines for Google X's Project Wing and ran the data science team at Jana Mobile.

×

Image Loading With Fresco: 4 Years Later

Alexander Oprisnik

---

apis

fresco

android

mobile

Day 1, 24 Oct starts 14:45 (Track 3)

Image Loading With Fresco: 4 Years Later
Alexander Oprisnik

Facebook, have created a library called Fresco to display images in their Android apps. It was open-sourced 4 years ago and a lot has changed since then. In this session, Alexander, a core maintainer of Fresco, will share how the library has lost weight while gaining new features, and how they simplified Fresco's architecture and APIs. You'll also discover how they have improved image loading performance in small and big apps and how you can do the same.

apis fresco android mobile

---

About the speaker...

Alexander is a Software Engineer at Facebook, working on their images infrastructure for Android. He has been a core maintainer of the open source image loading library Fresco for more than 3 years, making sure that it is easy-to-use and performant.

×

Inhibiting the impostor

Ana Baotić

---

teams

mentoring

impostorism

company-culture

android

mobile

Day 1, 24 Oct starts 14:45 (Track 4)

Inhibiting the impostor
Ana Baotić

Have you ever had an experience where a small voice in your head prevented you from acting on an idea, stopped you from sharing your knowledge or trying something new, or maybe even made you feel like your achievements were nothing special? That voice is more common than you think! In this talk Ana will share with you the basic steps that will help you materialize, deconstruct and take control of that voice, helping you distinguish the useful bits of information that can help you grow from the overwhelming debris and clutter. You will learn how to notice the early signs of its onset and manage the situation to your benefit. Finally, you will learn to use simple tools that will help you recognize and acknowledge your achievements and help yourself and others fight the invisible menace.

teams mentoring impostorism company-culture android mobile

---

About the speaker...

Ana is a software engineer with over 7 years experience in Android. During college she focused on various e-learning projects and plagiarism detection. After getting her Masters degree in CS, she started developing for Android at an Zagreb-based agency, working on various projects in the telecommunication, medical and travel industry. After switching to mobile banking and security, in 2016 she took the role of Technical Manager of Mobile banking. She is currently a Project Manager at Asseco SEE. In addition to coding, she loves organising workshops and working directly with clients, helping to close the gap between the technical and practical in the mobile industry.

Apart from coding and public speaking, she enjoys spending time with her family and travelling.

Ana tweets at @abaotic

×

Workshop: Dive into the World of Architecture Components - Part 2

Miriana Itani

---

navigiation

architecture-components

kotlin

mvvm

room

coroutines

android

mobile

Day 1, 24 Oct starts 14:45 (Track 5 - Workshops)

Workshop: Dive into the World of Architecture Components - Part 2
Miriana Itani

The workshop will dive into the power and usages of Google's latest architecture components. This includes developing an application in Kotlin using the MVVM design pattern. The application will show the advantages of having a ViewModel and how to efficiently use it. Therefore, at the end of the workshop, attendees will have a working android application fully capable of fetching data from the backend and saving it locally using Room. You will also establish a small communication between Activity and Fragment to show how LiveData makes the communication application and done the right way. In addition to that, you will get to use the new navigation library where Google urges to use One Activity with multiple fragments.

navigiation architecture-components kotlin mvvm room coroutines android mobile

---

About the speaker...

Miriana is a senior android developer with various applications published on the playstore. She has an article to be published in IEEE, is the Vice President of Arab Women In Computing of the Lebanon Chapter, chosen by the New York University of Abu Dhabi, and also gives Android beginner and advanced courses at TechCampus.

×

15:30

Tea & Coffee Break

15:45

Sharing Is Caring - Kotlin Multiplatform for Android Developers

Britt Barak

---

multiplatform

kotlin

android

mobile

Day 1, 24 Oct starts 15:45 (Track 1)

Sharing Is Caring - Kotlin Multiplatform for Android Developers
Britt Barak

As Android developers, you often work with a backend service. Often in your team, there is an iOS project or a Javascript project, with similar functionality, that is being developed by your teammate developers next door. How fun would it be to write Kotlin code once and share it with all platforms? It would save so much time and effort of implementation and testing! Please meet Kotlin Multiplatform! Although still experimental, it is very powerful and awesome. In this session, you will learn to create a full-stack Kotlin project that fits Android apps and a backend Kotlin component. You'll discover how to share code between the components to build more efficient and robust applications. And your teammate next door will thank you as well.

multiplatform kotlin android mobile

---

About the speaker...

Britt Barak is a part of the developer relations team at Nexmo, where she leads the developer experience of Nexmo's programmable conversation SDKs. In the past, she led the mobile engineering teams of various startup companies in Israel, the "Startup Nation". Britt is a Google Developer Expert, a worldwide public speaker, who is passionate about developers and startup communities, and promotes diversity in tech.

×

Overview of Biometric Auth

Michael Bailey

---

androidx-biometricprompt

biometric-auth

android

mobile

Day 1, 24 Oct starts 15:45 (Track 2)

Overview of Biometric Auth
Michael Bailey

Allowing users to login with Biometric Auth (fingerprint) in your app can help with both ease of use and security, but there are many "gotchas" to implementing fingerprint authentication across a wide variety of devices. During this talk you will learn how to add fingerprint authentication and about the device and OEM specific gotchas that you need to be aware of. Michael will also explore the new androidx BiometricPrompt library.

androidx-biometricprompt biometric-auth android mobile

---

About the speaker...

Michael is a Google Developer Expert and a Principal Engineer on the Android team responsible for American Express' flagship consumer Android apps in the U.S. market. Development on these apps began in 2010. Since joining the company in 2008, Michael has worked on a number initiatives at American Express including analytics, enterprise content management, AmexLabs, iOS apps, international mobile applications, NFC payments, the U.S. homepage and the U.S. online card applications site.

Michael holds a BS in Computer Science from Harvey Mudd College and an MS in Computer Science from the University of Southern California, where he specialized in computer security. Including the U.S. consumer apps that Michael works on, American Express has 8 Android apps in the U.S. Google Play Store and more in the international Play Stores.

×

Cosmos: How to create a better Scalable UI

Artem Rudoj

---

designsystems

ui

architecture

android

mobile

Day 1, 24 Oct starts 15:45 (Track 3)

Cosmos: How to create a better Scalable UI
Artem Rudoj

At Badoo they are developing several applications for millions of users across the world and lots of features are run with A/B tests. Due to the specific nature of this case a combination of speed and quality of development is critical for them. However, given such a large code base, the large number of A/B tests and several generations of legacy general UI components, it is becoming more and more difficult to keep up. It was decided to develop a single design system, Cosmos, which would simplify interaction between designers and developers and would significantly speed up and simplify the development process. Artem will share with you how they scaled this approach, how they globally refactored the application and how their in-house decisions, in regards to testing, assisted them in this. He will also show how they parameter UI components synchronically on all platforms with the help of design tokens and how this simplifies the structure of UI modules on a scale of several applications. You will discover the difficulties they encountered during the course of the UI scaling process and how this approach has significantly improved quality of development.

In this session you will also learn about: - Design tokens, what they are needed for, how you implement them and how they help support design in respect of synchronisation - About Badoo's Remote Icons Pipeline, how they parse icons from the sketch file in a synchronised manner on all platforms - How tokens and the Remove Icons Pipeline have assisted them all-round as they have made a global a/b test for redesign - How they reuse and customize their UI components between all their applications - And how this is scaled for all the company's applications (the development company grew twofold practically in two months), in order to scale development speed. They have a single MVIcore architecture, and this seamlessly leads to the emergence of a single approach to UI development. Artem will share with you the architecture of UI modules and how they allow you to have one layout for features shared by applications, so that these applications may be reused by applications among themselves. - And, of course, he will tell you about the problems they encountered at each stage

designsystems ui architecture android mobile

---

About the speaker...

Artem has around 5 years experience in Android development. He joined the Android World from low-level programming, has worked both for B2B and B2C companies, and currently works at Badoo in London. He also has a Master's degree in Computer Science.

Since joining Badoo he has been working on their design System: Cosmos. He has participated at conferences in Russia as speaker.

×

Cool tricks you (probably) didn't know in Android Studio

Saurabh Arora

---

android

mobile

productivity

androiddev

androidstudio

Day 1, 24 Oct starts 15:45 (Track 4)

Cool tricks you (probably) didn't know in Android Studio
Saurabh Arora

Understanding and mastering the tool that you use on a daily basis is the perfect way to boost your productivity. In this talk you will discover tips that will help in boosting your productivity with Android Studio.

The talk will explore what these actions are, how to find them and examples on how to incorporate them into your daily use. In this talk you will not be relying on keyboard shortcuts since not all attendees might be using the same operating system with the same keyboard combinations and shortcuts.

android mobile productivity androiddev androidstudio

---

About the speaker...

Saurabh has been building Android apps for 5 years. Currently a part of the Android team at Viki, Singapore, he has been instrumental in increasing the capabilities and performance of the Viki app, which has been nominated for Google Play Awards, been an Android Excellence awardee, part of the editor's choice apps and launch partners for Android Go and Instant Apps. Outside of work, he is a big tennis and cricket fan.

×

Reverse-Engineering apps on the device - how far can we go?

Jeb Ware

---

reverse-engineering

security

android

mobile

Day 1, 24 Oct starts 15:45 (Track 5 - Workshops)

Reverse-Engineering apps on the device - how far can we go?
Jeb Ware

As Android developers, you know that your app is insulated from other apps in the device by the Android Application Sandboxing model. But the reality is that this sandbox only protects your data. Your APK is completely exposed to other apps, including resources, assets, and code.

Jeb wanted to know how much reverse-engineering he could do from within an app, so he built an app that can run on your phone and inspect any other app's resources, looking at image assets and reading string values. It can even load another app's code, and execute it. All this happens without leaving the device, without classic reverse-engineering tools on a developer machine.

In this session, you will discover the APIs that expose your resources, and learn how to put them into action. Jeb will demonstrate how you can inspect, and even execute, another app's code. You will come away with a better understanding of what is and is not protected by the Android Application Sandbox, and which parts of your app are freely available for reverse-engineering.

reverse-engineering security android mobile

---

About the speaker...

Jeb Ware is a Senior Engineer in the Technology organization at American Express, where he works on Android applications.

He has been developing for Android since the original G1. He enjoys breaking a new phone every six months, trying out the shiny new APIs in each Android release, and decompiling your app to see how it's working.

×

16:30

Tea & Coffee Break

16:45

Lightning Talk: Designing an Intent-based API

Darryn Campbell

---

industry-standard

library

api

sdk-development

android

mobile

Day 1, 24 Oct starts 16:45 (Track 1)

Lightning Talk: Designing an Intent-based API
Darryn Campbell

If you want to enable Android developers to incorporate your functionality into their app, the process is straightforward, right? Wrap your project a jar file and make it available for download. This works great for libraries targeting a single platform but not all Android developers can easily consume jar files.

In this talk you will discover how Darryn and his team implemented their APIs using Android Intents, making them accessible to most mobile frameworks as well as traditional Java / Kotlin / Xamarin developers WITHOUT having to create a new plugin for every framework. There are many advantages to this approach and they have seen enthusiastic adoption by their customers, but he will also cover the downsides including performance concerns, debugging and device dependencies.

industry-standard library api sdk-development android mobile

---

About the speaker...

Darryn is a software development architect and full-stack developer based out of the UK working for the Mobile Computing Business at Zebra Technologies which builds rugged enterprise mobile computers for use in retail, transportation, warehouse and healthcare.

With over 10 years of development experience on mobile platforms ranging from PocketPC to the latest Android devices Darryn is responsible for ensuring product SDKs and developer tools align with expectations as well as come up with solutions and new features to drive product requirements.

×

Lightning Talk: Backup and Restore; Where are we? Where do we want to go?

Al Sutton

---

new-devices

backup

migration

android

mobile

Day 1, 24 Oct starts 16:45 (Track 2)

Lightning Talk: Backup and Restore; Where are we? Where do we want to go?
Al Sutton

You all know that users buy new devices, but how many developers have considered the user experience of moving users from their old device to their new one?

In this session, you will discover how to make the transition to a new device easier for users, how Android features like Auto Backup can help your user get up and running quickly, and offering some advice on making your users transition between devices as smooth as possible.

Al will also be opening the door to gain ideas from developers; They want to hear feedback about what they have, what developers want, and what they can do to give users the best possible experience.

new-devices backup migration android mobile

---

About the speaker...

Al Sutton was a major contributor in developing OUYA.Al has been involved in a wide range of things, from an interactive TV system from TwoWayTV and developing systems on Psion handhelds using SMS to things like ticket bookings and sending and receiving Emails.

Al has been contributing to the Skills Matter community for many years, in many different ways. He regularly speaks at Skills Matter events and conferences, including at Droidcon, at Londroid meet ups and Ouya meet ups and at Skills Matter's In-the-brain series. In addition to his support as a speaker, he has contributed lots of other great stuff, incredibly valuable to our community, his fabulous Droidcon app being a good example.

In the late 90s' Al started working in London for Chase Manhattan bank, initially looking after their developement infrastructure in London, and then moving on to looking after their DR facilities for Europe and become part of a global security architecture group. During this time Al didn't leave his development roots behind, becoming involved in a number of projects including an attempt to port the Mozilla/Netscape browser to Java

After the turn of the century Al spent a few years working for start-ups doing a range of design, development, and management jobs working on high volume, high availability systems involved in the telecoms and financial sectors. In 2005, he ended up working for Reuters after they took over a company he had been working for.

At the end of 2005 Al left the land of employed work and started working for himself. At the end of 2006, he co-founded Enterprise Data Safe Limited based around a corporate password safe solution he had developed. Since then he's been responsible for all sales, development, and support activities within the company, growing sales and profits without the need for VC or bank funding.

In late 2008 he founded Funky Android Ltd. which focuses on developing sites and software for the Google Android operating system.

×

Lightning Talk: Move Over Certificate Pinning. Certificate Transparency Is Here!

Matthew Dolan

---

certificate-transpa

android

mobile

Day 1, 24 Oct starts 16:45 (Track 3)

Lightning Talk: Move Over Certificate Pinning. Certificate Transparency Is Here!
Matthew Dolan

Failing to protect your users data can not only result in fines but of course loss of your users trust. You can protect your apps against man-in-the-middle attacks using techniques such as certificate pinning. However, as you will discover, implementing certificate pinning requires us to answer questions such as which certificate to pin against, and that doesn't have a straight forward answer. In this session, Matthew will share certificate transparency which has already replaced certificate pinning in Google Chrome. You will also learn how to use it on Android with a new open source certificate transparency library from Babylon Health.

certificate-transpa android mobile

---

About the speaker...

Matt Dolan has been developing with Android since the dark days of v1.6. When he's not eating donuts he's passionate about bringing developers and designers together to #buildbetterapps

×

15 minute Lightning Talk (TBC)

---

android

mobile

15 minute Lightning Talk (TBC)

---

android

mobile

17:00

15 minute Lightning Talk (TBC)

---

android

mobile

15 minute Lightning Talk (TBC)

---

android

mobile

15 minute Lightning Talk (TBC)

---

android

mobile

15 minute Lightning Talk (TBC)

---

android

mobile

15 minute Lightning Talk (TBC)

---

android

mobile

17:15

Tea & Coffee Break

17:30

Keynote: Extremely excited to have Stacy Devino at droidcon London 2019!

Stacy Devino

---

droidconuk

android

mobile

Day 1, 24 Oct starts 17:30

Keynote: Extremely excited to have Stacy Devino at droidcon London 2019!
Stacy Devino

droidconuk android mobile

---

About the speaker...

Stacy is a Google Developer Expert for Android, Intel Innovator, Google Developer Group Mentor, and WTM Lead. She has worked on Android Applications down to the whole Android OS and even developed IoT appliances from the ground up which are in use by companies like Apple and Amazon and has work featured on Wired, Gizmodo, and Geek.com. Apps she has built have tens of millions of active users and developed cloud solutions at scale. She currently works for Nike s23NYC Labs doing Android apps like the SNKRS app, Augmented Reality, Machine Learning, and touch of InfoSec focused on delivering exceptional customer mobile experiences.

×

18:30

droidcon London 2019 Party!

21:45

End of Day 1 of droidcon London 2019 - See you tomorrow!
Day 2: Friday 25th October 2019
The rooms will be allocated two days before the conference! Please note that this schedule is still subject to changes - watch this space :)
Track
Track 1
Track 2
Track 3
Track 4
Track 5 - Workshops
08:00

Registration & Breakfast

09:20

Welcome to #droidconUK 2019 - Day 2

09:30

2

Our icons Chet Haase and Romain Guy will be back to droidcon London 2019!

Chet Haase and Romain Guy

---

droidconuk

mobile

android

Day 2, 25 Oct starts 09:30

Our icons Chet Haase and Romain Guy will be back to droidcon London 2019!
Chet Haase and Romain Guy

droidconuk mobile android

---

About the speakers...

Chet is the lead of the Android UI Toolkit team at Google, where he works on animations, graphics, and performance. He also writes technical articles, writes and performs comedy, and gives presentations at developer conferences like Droidcon London.

×

10:30

TEA & COFFEE BREAK

10:45

Using Benchmarks for Tracking Regressions and Improving UI performance

Aziz Murtazaev

---

ui-performance

automated-testing

benchmarks

litho

mobile

android

Day 2, 25 Oct starts 10:45 (Track 1)

Using Benchmarks for Tracking Regressions and Improving UI performance
Aziz Murtazaev

Rendering UI takes a significant amount of CPU time, therefore it's important to keep this part of the computation as lean as possible. Whenever UI rendering regresses key metrics such as app startup, time-to-interaction, scroll performance are all affected which eventually affects product engagement.

In this talk, you will discover how Facebook uses benchmarks to make sure that regressions on UI rendering do not slip through to production. Also you will explore ways of iterating on UI rendering code to proactively improve UI performance.

ui-performance automated-testing benchmarks litho mobile android

---

About the speaker...

Aziz Murtazaev is a Software Engineer at Facebook working on Litho and infra for around it for the past 3 years

×

First look at Jetpack Compose

Łukasz Wasylkowski

---

jetpack

mobile

android

Day 2, 25 Oct starts 10:45 (Track 2)

First look at Jetpack Compose
Łukasz Wasylkowski

Announced at this year Google I/O, Jetpack Compose is a brand new, exciting toolkit for UI development on Android. It borrows from such frameworks like React or Flutter, and offers concise, composable, reactive way to designing your UI 100% in Kotlin!

In this session, you will discover the core principles or Jetpack Compose, what features it offers and why Kotlin is the language of choice. You will also explore how you can integrate Compose with existing UI frameworks and what you can expect in the future.

jetpack mobile android

---

About the speaker...

Łukasz is an Android developer for 5 years now. Passionate about new approaches to building mobile apps. Big fan of Gradle, Kotlin and Flutter. Likes pizza, clean code, cats, architecture, and knowing how things work in detail.

×

2

When in Rome, speak…maybe not Italian?

Kai Koenig and Raquel Moss

---

web

localisation

i18l

internationalisation

mobile

android

Day 2, 25 Oct starts 10:45 (Track 3)

When in Rome, speak…maybe not Italian?
Kai Koenig and Raquel Moss

With a diverse, global base of users, how do you decide which language to use to present content to your user? Location makes sense, right? Romans speak Italian, Osakans speak Japanese, and Ohians speak English. Simple! Except that you know it's not like that. Everyone knows there's Vietnamese people living in Rome, British people living in Osaka, and Argentinians living in Ohio—such is life in 2019. So why do so many companies solely use location to determine things like language, currency formats, and other important internationalisation features? It's a frustrating experience for users, and the tools exist to do much better. In this session, you will explore some examples where companies are getting it right, some examples where companies are getting it very wrong. You will also discover some suggestions on how you can improve the experience in your own apps.

web localisation i18l internationalisation mobile android

---

About the speakers...

Kai works as a Software Solutions Architect for Ventego Creative in Wellington, New Zealand. He co-founded the company with two partners and is also the CTO of Zen Ex Machina, a startup in the fields of digital & user experience consultancy based out of Canberra in Australia.

Kai's work comprises a mix of consulting, training, mentoring and actual development work using a range of technologies, common themes being Java, Android, Kotlin, CFML, JavaScript etc. He is well versed in Java and some other JVM-based languages like Clojure or Groovy and recently (re-)discovered the pleasure of writing software in Python and Go. Kotlin is his newest language love though.

Other stuff Kai occasionally does: Writes for magazines, produces a Podcast (2 Developers Down Under) with his friend Mark Mandel from Melbourne/San Francisco and since 2007 fly small, single-engine airplanes around New Zealand and sometimes Australia.

Kai tweets at AgentK.

Raquel is a Kiwi software engineer travelling the world and working remotely. When she is not coding she likes to knit, look at contemporary art, and write.

×

Easy, scalable backends for Android developers

Doug Stevenson

---

serverless

backend

mobile

android

Day 2, 25 Oct starts 10:45 (Track 4)

Easy, scalable backends for Android developers
Doug Stevenson

In the past, engineering teams typically split "frontend" and "backend" responsibilities. As an Android developer, you almost certainly slotted into the "frontend" category, with no responsibility on the backend. And if you do want to work on the backend for an app, it can be taxing to learn new tools and languages, while being responsible for managing and scaling a server farm.

Today, with "serverless" backends becoming popular, server management and scaling is being fully automated, and you can use many of the same tools and languages you use for Android development. Do you want to write Kotlin everywhere? There's a solution for you! Join this talk to explore some serverless options provided by Google, see some demos, and discover which options are right for you.

serverless backend mobile android

---

About the speaker...

Doug is a veteran engineer, experienced public speaker, and developer advocate at Google with the Firebase team. He's been developing for Android since the very first Android device was on the market, and has bootstrapped the efforts of silicon valley startups. Outside of work, Doug follows professional ice hockey and enjoys craft beer.

×

Workshop: Understanding Kotlin Coroutines

Marcin Moskala

---

coroutines

mobile

android

Day 2, 25 Oct starts 10:45 (Track 5 - Workshops)

Workshop: Understanding Kotlin Coroutines
Marcin Moskala

Kotlin Coroutines is a powerful tool. Well implemented concept of suspendable computation... It is a dream of many theoretics of concurrent programming for a long time. But how is it possible? How do Kotlin coroutines really work? Why are they important? What do they introduce? And finally, how you can use them in your project?

In this workshop, Marcin will share how to use Kotlin Coroutines and what makes them so special and so efficient. You will also explore if they are an alternative to RxJava.

coroutines mobile android

---

About the speaker...

Marcin Moskala is an experienced Android developer, teacher, and an official Jetbrains' Kotlin training partner. He is the founder of Kt. Academy, author of the book "Android Development with Kotlin", and an active programming community member. He is also the main author on the biggest medium publication about Kotlin and a speaker invited to many programming conferences

×

11:30

TEA & COFFEE BREAK

11:45

The Light Way

Lisa Wray

---

ui

mobile

android

Day 2, 25 Oct starts 11:45 (Track 1)

The Light Way
Lisa Wray

What if an app could be performant by being simple?

What if an app could work "at scale" for a billion users using only standard Android paradigms?

Facebook supports some of the biggest, most complex apps in the world. But supporting everyone also means support for developing countries, low-memory phones, and spotty network. So in Messenger Lite, the team tried something different. To make cold start and APK size priorities, they went back to basics. They limited dependencies -- and the feature set. And they embraced what the Android framework provides to make a 100% native app that's featherweight and really, really fast.

In this talk you'll discover how these tools -- such as data binding, RecyclerViews, a database-driven UI, and simply writing less code -- are available to every Android developer who wants to build their app the Lite way.

ui mobile android

---

About the speaker...

Lisa Wray is a mobile developer, speaker, and advocate specializing in user interfaces. She currently works at Facebook, and previously worked at Google, the New York Times, and Genius. She has a B.S. from M.I.T. in music and computer science, and is a Google Developer Expert for Android. She currently lives in Seattle.

Lisa tweets at @lisawrayz.

×

Espresso Patronum: The Magic Of The Robot Pattern

Adam McNeilly

---

architecture

testing

espresso

mobile

android

Day 2, 25 Oct starts 11:45 (Track 2)

Espresso Patronum: The Magic Of The Robot Pattern
Adam McNeilly

Are you one of the numerous developers who wants to implement Espresso testing but hasn't? Perhaps it's for one of the common reasons - not enough expertise or time, it feels like a daunting task, or it feels downright tedious.

Adam has personally felt each of those things. All of that changed once he learnt about the robot pattern. In this session, you will discover how the robot pattern helps you write cleaner and maintainable tests, as well as how it can be leveraged for better test reporting. You'll walk away with an understanding of how to write tests much more thoroughly and efficiently so that it can easily become a natural part of your build process, and not shoved in the backlog and left untouched.

architecture testing espresso mobile android

---

About the speaker...

Adam is a Software Engineer, Android enthusiast, and pun aficionado.

He fell in love with Android when he picked it up as a hobby in 2013 and he's been staying on top of the latest trends and contributing to open source projects ever since. Adam also strives to be an active member of the developer community - traveling the world to attend and speak at hackathons and conferences to both educate and learn from others in the community.

×

Let your design evolve, adopt a Design System!

Jean-Baptiste VINCEY

---

design-system

atomic-design

ui

ux

mobile

android

Day 2, 25 Oct starts 11:45 (Track 3)

Let your design evolve, adopt a Design System!
Jean-Baptiste VINCEY

As the Deezer team expanded over the last years, making changes and maintaining design in the mobile app became a major concern:

How do you keep the different screens of the app(s) consistent and let the design evolve?
How do you ensure consistency across platforms / applications?
How do you fill knowledge gaps between designers and developers?

ATOMIC DESIGN

To tackle these issues, the Deezer team decided to build a strong Design System, based on Brad Frost methodology: Atomic Design. They established with designers a UIKit, a pattern library, implemented as an Android library and inspired from Atomic Design, defining every UI component of the app.

In this talk, you will explore the UIKit to see how components are defined and organized, integrated in the app with global architecture, and the implications on the design and development process in our team.

If you want to know more about the subject before hand, you can read this article on medium: https://deezer.io/a-journey-towards-atomic-design-on-android-at-deezer-f384928bb04e

design-system atomic-design ui ux mobile android

---

About the speaker...

Jean-Baptiste is a passionate android engineer at Deezer.

After completing his Masters in Munich, and a year in Benin as a volonteer, he started working as an Android engineer in 2015 at Backelite Montpellier (France) developing banking applications. He is now working in Deezer Android app and has been for more than a year in Paris.

×

Designing Experiences For Voice Interactions

Alina Catalina Banuleasa

---

ui

voice-interactions

mobile

android

Day 2, 25 Oct starts 11:45 (Track 4)

Designing Experiences For Voice Interactions
Alina Catalina Banuleasa

In times where design revolves around interfaces and screens, moving towards UI-less experiences brings new challenges. Most of the interactions between humans are done through conversation and still, most of that communication is wrong. Technology brings new challanges but also makes life easier for people by building bridges between the needs of humans and modern technology. However, how can we teach computers to better interact and communicate with people when most of the time, communication is flawed. In this talk, Alina is going to explore with you not only the technology and the challenges of voice interactions, but also human and psychology aspects that help designers and developers create better products.

ui voice-interactions mobile android

---

About the speaker...

Catalina has an extensive experience in User Experience and Design Thinking, leading creation of digital experiences in companies as Electronic Arts, where from 2017 to 2019, she lead the Romanian UX team for FIFA, Vodafone and ING Bank. At ING she went from coordinating innovative digital campaigns, making ING one of the most loved Romanian brands in social media, to being the person behind the experience of ING Bank's internet banking, Home'Bank. She left the corporate world to become an entrepreneur, co-founding the Design Thinking Society with, what she proudly says, other 3 of the best makers in Romania, on their way to make some changes around design in Romania. They are an Innovation and Design consultancy boutique offering companies and startups consultancy to improve their products and services. Catalina is also a UX trainer, mentor and advocate of design thinking approach. She is a certified Google Developer UX expert and invest effort and time in developing and supporting the tech communities. She's driven and curious.

×

Workshop: Understanding Kotlin Coroutines

Marcin Moskala

---

coroutines

mobile

android

Day 2, 25 Oct starts 11:45 (Track 5 - Workshops)

Workshop: Understanding Kotlin Coroutines
Marcin Moskala

Kotlin Coroutines is a powerful tool. Well implemented concept of suspendable computation... It is a dream of many theoretics of concurrent programming for a long time. But how is it possible? How do Kotlin coroutines really work? Why are they important? What do they introduce? And finally, how you can use them in your project?

In this workshop, Marcin will share how to use Kotlin Coroutines and what makes them so special and so efficient. You will also explore if they are an alternative to RxJava.

coroutines mobile android

---

About the speaker...

Marcin Moskala is an experienced Android developer, teacher, and an official Jetbrains' Kotlin training partner. He is the founder of Kt. Academy, author of the book "Android Development with Kotlin", and an active programming community member. He is also the main author on the biggest medium publication about Kotlin and a speaker invited to many programming conferences

×

12:30

Lunch

13:45

We look forward to welcoming back Jake Wharton to droidcon London 2019!

Jake Wharton

---

droidconuk

mobile

android

Day 2, 25 Oct starts 13:45 (Track 1)

We look forward to welcoming back Jake Wharton to droidcon London 2019!
Jake Wharton

droidconuk mobile android

---

About the speaker...

Android Framework engineer at Google working on Kotlin things. Has a long-time severe allergy to boilerplate code and for years has been raising awareness on the issue as well as leading efforts to eradicate this horrible disease that plagues modern developers.

×

Kotlin DSL For Android Projects

Claudia Luque Fernández

---

kotlin

mobile

android

Day 2, 25 Oct starts 13:45 (Track 2)

Kotlin DSL For Android Projects
Claudia Luque Fernández

Let´s face it, Groovy is ok, but Kotlin is irresistible. During this talk you are going to learn how easy it is to migrate your Android project to Kotlin DSL and find on the way some tips to boost the gradle files reusability.

kotlin mobile android

---

About the speaker...

Senior Android Engineer enthusiastic about coding since 2006, Claudia has worked with many platforms and frameworks. Android and Kotlin fit 90% of her heart, the other 10% needs to be shared between family, friends and running.

×

Idio~~ma~~tic Kotlin

Márton Braun

---

fun

kotlin

mobile

android

Day 2, 25 Oct starts 13:45 (Track 3)

Idio~~ma~~tic Kotlin
Márton Braun

"Idiomatic" is a word often used by Kotlin experts to describe elegant patterns or solutions that make excellent use of Kotlin's features.

In this session you will discover how to abuse Kotlin language features to take shortcuts, create tricky solutions, achieve exciting syntax, or confuse others who dare enter your codebase.

fun kotlin mobile android

---

About the speaker...

Marton is a Kotlin enthusiast since the 1.0 of the language, and an aspiring writer, speaker and educator.

He is an Android developer and self-proclaimed Kotlin evangelist at AutSoft, an Android/Kotlin tech editor for RayWenderlich.com, and a university student and instructor at BME-VIK, studying computer engineering while teaching Kotlin and Android. He is also the Creator of the MaterialDrawerKt and Krate libraries. He also occasionally gets addicted to StackOverflow.

×

A Real use case of practical AR-AI couple - Size my luggage

Giovanni Laquidara

---

mlkit

arcore

ar

mobile

android

Day 2, 25 Oct starts 13:45 (Track 4)

A Real use case of practical AR-AI couple - Size my luggage
Giovanni Laquidara

You may have been reading about AR as the future platform, even though currently you are only able to experience gaming/entertainment use cases about it.

However, there are effective non-gaming examples: Many travel and transport companies are using AR to help you to understand if your luggage fit their limits. In this session, you will discover these apps and explore how to develop them as an Android native app using ARCore, Sceneform and a bit of AI with Firebase ML Kit. At the end you will be able to apply these new skills to new exciting use cases.

mlkit arcore ar mobile android

---

About the speaker...

Giovanni is an Android engineer at TUI and VR/AR lovah.

He is an Android engineer at TUI with 12 years' of past experience building Object Oriented, real-time, and mobile applications. Super passionate about Android development, VR/AR and AI and he also takes part in many IT communities as an active member/leader, becoming Technical Leader of GDG-Rome and Mobile Tea, Facebook DevCircle.

He has had fun as a speaker in many IT and developer conferences, like Codemotion and droidcon.

×

90 minute workshop (TBC)

---

mobile

android

14:30

TEA & COFFEE BREAK

14:45

Building An Accessible Smart Guitar For The Deaf, Blind and Mute

Joe Birch

---

google-actions

google-cloud

smart-guitar

mobile

android

Day 2, 25 Oct starts 14:45 (Track 1)

Building An Accessible Smart Guitar For The Deaf, Blind and Mute
Joe Birch

Joe has always loved playing guitar - but he feel it's something that's always been taken for granted. Whilst he was able to pick up a guitar and start teaching himself how to play, that experience might not be the same for everyone. That's why Joe decided to build a smart, accessible guitar that would allow others to experience the joy of music with less of a hurdle to do so. Powered by Actions on Google, Firebase, Dialogflow and Google Cloud - the Chord Assist smart guitar allows people who are blind, deaf or mute to be able to learn, play and tune their guitar. In this session, Joe will share the journey of this project - from the importance of inclusive craft to how all these technologies come together to provide an accessible experience for everyone.

google-actions google-cloud smart-guitar mobile android

---

About the speaker...

Joe is an Android Engineer and Google Developer Expert for Android, based in Brighton, UK and is working on the Android team at Buffer. He's passionate about coding and loves creating robust, polished and exciting projects for mobile, the web, TV, wearables and he'll probably be toying with whatever the new thing is at the time you're reading this – Joe loves to be constantly learning. He is also a keen writer as he loves to share his learnings and experiences with others.d writer sharing all of his experiences in the Android world, also currently working on a Firebase Book

Follow him on Twitter

Check out his GitHub

×

Having a Voice on Android: How hard can it be?

Paul-Louis Nech

---

assistants

conversational

design

use-cases

ux

voiceui

mobile

android

Day 2, 25 Oct starts 14:45 (Track 2)

Having a Voice on Android: How hard can it be?
Paul-Louis Nech

Mobile is a leading platform that keeps growing (amounting today to 52% of web traffic and half of online shopping), no wonder voice interfaces are met with success there. And with half of all voice interactions taking place on mobile, you see many original ideas being developed in this field.

Some of these bring users a lot of value, reducing friction to use a service or improving the user's overall experience. But quite a few design patterns actually interfere with the user's objectives. What should you take care of when building voice interactions into an app? Would any app benefit added voice commands, or does it only bring value to some use-cases?

From interaction design to the dreaded issue of knowing when to stop speaking, you'll learn what separates a great voice-enabled app from a not-so-great one. You will take away some lessons the current ecosystem can teach us to build better interfaces... and it might put a smile on your faces along the way!

assistants conversational design use-cases ux voiceui mobile android

---

About the speaker...

Paul-Louis Nech is a R&D Engineer at Algolia, where he develops tools for Android developers. He currently focuses on the intersection of mobile platforms, search engines & conversational interfaces… Which you can tell from hearing him utter weird sentences to hand-held devices and debating STT's handling of regional accents.

×

The Android Chef

Anastasia López

---

mobile

personal-development

career-progression

android

Day 2, 25 Oct starts 14:45 (Track 3)

The Android Chef
Anastasia López

This is my invariable advice to people: Learn how to cook- try new recipes, learn from your mistakes, be fearless, and above all have fun!" - Julia Child. The first lessons of an apprentice cook typically focus on identifying quality. Reinforced by repetitive acts, which helps understand the product and the method. This training only focuses on the detail rather than the bigger picture. With these new skills a cook learns how to adapt. Once they have a strong grasp of the fundamentals cooks are less fearful of experimentation. After they've gained confidence in their ability to adapt, improvisation teaches them how to act based on their intuition. Finally, when they have enough technical skill, a chef's creativity finally enters the picture. A dish is simply the expression of a personal challenge, filtered through the whole of a cook's experience and knowledge. Adapt, try new things, overcome and learn from your mistakes, repeat. How well do you think you'd cope if you had to be a professional chef for a day? What if we replace "cooks/chefs" with "Android developers" in the previous text?

The software you create is the expression of our knowledge, of what you've learned, and your own experiences. The path of becoming a senior Android developer can be very similar to the one cooks take to become chefs. Anastasia wants to learn from chefs and their journeys and apply it to your own craftsmanship. During her talk you will learn what path you can expect in your career, what skills will be needed in each step, what it takes to become a good Android developer, what it means to be senior developer, and finally how to lead a team successfully.

mobile personal-development career-progression android

---

About the speaker...

Anastasia Lopez is a very passionate Software Engineer, working @ Memrise as an Android developer. She like cupcakes, chocolate, and all types of sweets, which is probably what led her to the Android world.

×

45 minute talk (TBC)

---

mobile

android

90 minute workshop (TBC)

---

mobile

android

15:30

TEA & COFFEE BREAK

15:45

Keynote 1 Hour (TBC)

---

mobile

android

16:45

Skills Matter Wrap-Up: See You at droidcon London 2020!

17:00

End of #droidconUK 2019 Day 2
Excited to have Christina Lee joining us this year for a droidcon London keynote! 🤖

Describing herself on Twitter as a "relentlessy energetic morning person" interested in "cars, people, and anything that compiles," Christina Lee is a Software Engineer and Android GDE at Pinterest. She works on the Core UI platform team.

What will you be sharing this year? What inspired you to give this talk?

If it's alright with the committee, I'd like my Keynote to be called something like "Coding like an Athlete". The premise is that many programmers get paid amounts similar to professional athletes, yet pro athletes have entire suites of team doctors fine tuning how they eat, drink, and exert themselves to maximize performance. In contrast, programmers rarely seem to account for how their physical surrounding affect their programmatic output. I'd like to give my keynote about how our surroundings affect the code we're able to write. It'll coalesce the most recent medical studies about human concentration and performance and talk about how we can apply that to our own developer workflows.

Which other talks from droidcon London are you excited about? And why?
I'm really excited for Lisa's talk on the The Light Way. Lisa is one of my favorite speakers (her talks are always entertaining) but I'm also really interested in the premise of this talk -- what type of app experience can you build if you strip out all the extra dependencies and code to the rails of android? Looking at the growing list of dependencies and features in my own side projects, I'm hoping I'll walk away with some inspiration to focus on the core.
What made you want to be a part of droidcon London this year?
It always comes down to the people. I can't wait to see all of the developers on the other side of the pond that I don't usually get to speak with. I learn so much from listening to people at conferences, and am excited to mingle with the diverse group of attendees that flock to droidcon London.
Do you have any blog posts/podcasts or materials you think people might enjoy reading before coming along to your talk?
My talk will be a pretty far departure from what I normally speak about, so I don't have any existing materials related to it.
If someone was to make a Pinterest board of your life, which five things, people and / or places would they include?
Well right now I feel like I already have my life on Pinterest. My most contributed to boards are Dogs (all puppy photos), Recipes to Try (so many desserts!), Yellow (where I pin only yellow things), Needlecraft Inspo (for my weaving, embroidery, etc projects), and Wines (I have a huge collection).
Catch Christina Lee at droidcon London this October! More info on our Programme Page
---
Business Design Centre
Situated in Islington, one of London's most vibrant areas, the BDC is within walking distance of Angel tube station and relatively close to Kings Cross, Farringdon, Liverpool Street and Euston stations. Conveniently located outside the congestion charge zone, the venue also benefits from on-site car parking, an adjacent Hilton Hotel, and has disabled access.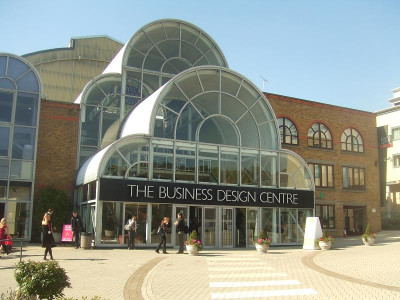 Call For Papers is now CLOSED
Thanks for submitting a proposal, the response's been overwhelming and we are currently working on selecting talks. Click here to stay up to date and find out more on speakers as we'll start publishing the line-up very soon!
Call for Volunteers at droidcon London 2019
Would you like to help us facilitate a great conference? Help us set up the conference spaces, introduce talks and speakers, field Q&A questions with mics, or support some of the workshops and hacks we've got in store?
Email us at conference-team@skillsmatter.com and we will put your name down as a volunteer for droidcon London 2019! Shifts and detailed info will be confirmed closer to the conference.
Tweet for Us
Fancy attending droidcon London for free? If you are a social media guru with an interest in all things Android, and would like a conference ticket in exchange for documenting your experience via social media, than we want you!
To be considered for a social media reporter ticket please email marketing@skillsmatter.com with a bit about yourself, why you would be interested and link to your social media profiles.
droidcon London 2019 Diversity Scholarship Plan
Skills Matter is proud and happy to share once again our droidcon London Diversity Scholarship Plan, which provides support to those from traditionally underrepresented and/or marginalized groups in the technology and/or open source communities who may not have the opportunity to attend droidcon London for various reasons.
Scholarships are awarded based on a combination of need and impact. Scholarship recipients will receive a complimentary ticket to the conference.
Please note, travel expenses are not covered under this scholarship and are the responsibility of the scholarship recipient.
Eligibility
Applicants should be from a traditionally underrepresented and/or marginalised group in the technology and/or open source communities and would be unable to attend without some assistance.
Joining us for droidcon London 2019 and want more? Make it a whole week of Android learning with these fringe courses...
Call or email our team about the droicon Fringe Package for a special discount on bundle tickets!
Brian Egan's Flutter and Dart Workshop
22nd - 23rd October 2019
Want to learn to build beautiful Flutter apps that users can navigate through easily, fetching data along the way? Join this two-day hands-on workshop with Brian Egan! Mobile development is a difficult task these days. Not only do you need to write beautiful, high performance apps that work on low-powered devices with intermittent connectivity, you need to write your apps twice! Once for iOS and again for Android. Google's new UI framework allows you to develop high quality apps for both operating systems using a single code base. Learn to speed up your mobile development and ship to both platforms with this fun framework!
Get your ticket here
Fast Track to Android Architecture with Jorge Ortiz Fuentes
21st - 23rd October 2019
Are you passionate about clean code and want to learn how to implement advanced architectures in Android applications? Join Jorge Ortiz Fuentes for this three-day course and follow an iterative and constructive path to build the greatest and most complex applications while keeping your code reusable, maintainable, testable, and decoupled.
This is a hands-on workshop, where you will write code in your platform, using a trusted codebase and with support and guidance from the instructor. Students will have access to a Git code repository so that they can flexibly review parts of the course as they learn.
Get your ticket here
Real World Kotlin Development Workshop
22nd - 23rd October 2019
Would you love to take full advantage of Java without its verbosity? Wish there was a better way to avoid NullPointerExceptions? Want to be able to still rely on first-class tooling and industry support? If so, then this workshop will show that is now possible.
In this workshop David Denton and Ivan Sanchez will show you the language's powerful, developer-friendly features, how they relate to what you know already, and to safely and incrementally migrate them existing Java codebases to Kotlin.
Get your ticket here
Whether you are seeking to improve visibility of your tools, devices or projects, or simply would like to support the droidcon's passionate community through your engagement, our sponsorship team will be able to help you select the best sponsorship package for you! Email sponsors@skillsmatter.com or phone 0207 183 9040.
Available Packages
To discuss sponsorship opportunities please contact the team:
Press Pass Registration
Skills Matter gives out Press Passes to both in-house and freelance editors, journalists, bloggers and influencers. We encourage those who have a genuine passion for tech and love to share great stories with tech communities and industries to apply.
Hold tight, skillscasts coming soon!